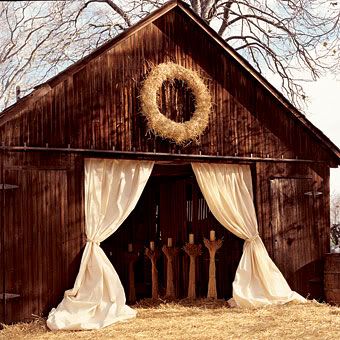 source.
Hello, my name is Laura, and I have a deep, dark secret. Okay, it's not all that secret, nor is it deep and dark, but it gives some major insight to why I'm getting married in a log cabin in the woods instead of some of the glorious beaches or
famous parks
San Diego has to offer.
The secret? I grew up as a country, horse-riding, tomboy on a farm in southern Indiana.
Unlike many of my friends here in California, I spent my younger days running through corn fields and catching
crawdads
in our creek. I wore cowboy boots to school every day for a week in fourth grade until I got made fun of for being a country girl (really - in Indiana...) I was a part of 4H and entered my horse into the county fair.
Now, our move to San Diego when I was in jr. high was really the perfect time for me to grow into who I am today. I love that I had land to roam and space for my imagination when I was little, but I have fully embraced my identity as a California native today. I thought that my experiences in San Diego throughout high school were the ones that most formed my identity and the little Laura I had been in Indiana was forgotten. Or so I thought until I started planning my wedding.
Originally I wanted bright contrasting colors, a modern look, and to feature the beauty of the west coast prominently. The more I started looking at weddings, the more antiqued and rustic my ideas became until one day I made a huge discovery:
I. Love. Barn. Weddings.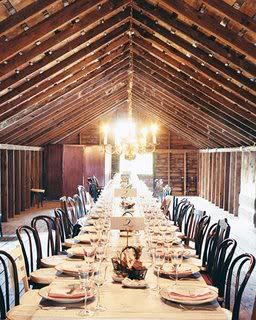 source.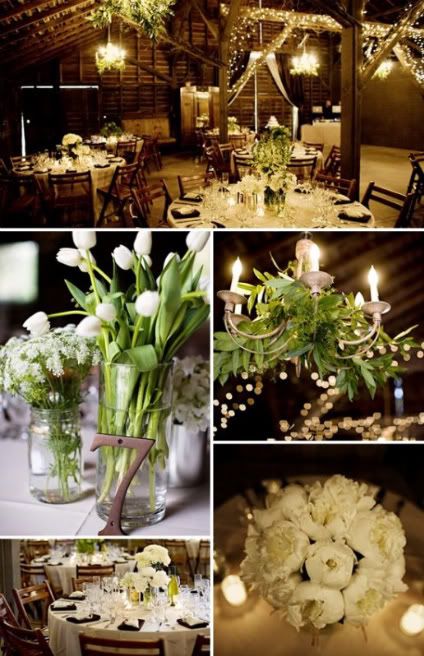 source.
My house in Indiana had a huge red barn just up the hill. We used it to store hay to feed our horses. When I was young, I resented going up to the barn anytime that was not specifically to go riding. Now, these pictures of barns make me drool, and I wish I still had access to ours. (In fact, the house has a huge wrap-around porch with a beautiful pathway leading up to it and i have dreamed since I was little about getting married there. Wouldn't it be great if we could ship all our friends and family to Indiana and use the porch for the ceremony and the barn for the reception? Somehow I don't think many people would go for that...)
Not only do reception spaces set up inside barns look positively perfect, but barn settings provide some breathtaking portrait opportunities as well. Just look at some examples from these great
bees
.
Mrs. Bunny
posted this teaser from her barn wedding.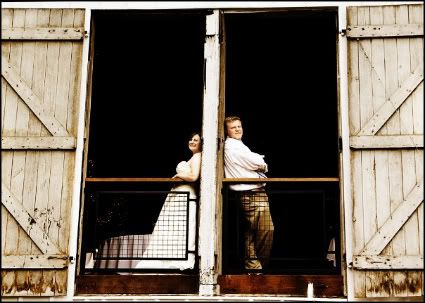 source.
Although their reception was outside,
Mrs. Green Tea
took advantage of this historic barn for adorable photos.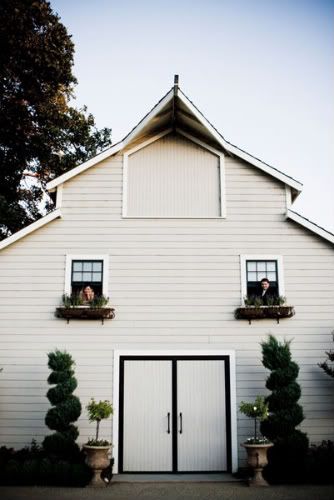 source.
And finally, the stunning
Mrs. Cherry Pie's
rustic wedding is a major inspiration for my own.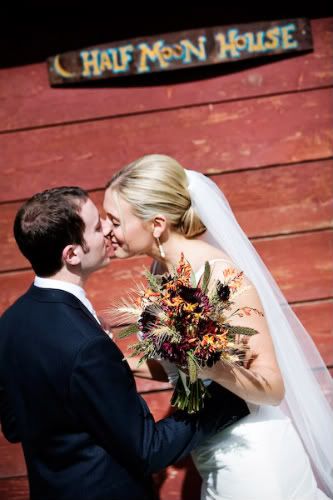 source.
Unfortunately, there are not many options for a barn wedding in Southern California. Google basically (metaphorically?) laughed me off the internet when I searched "Barn San Diego" - literally the only results that came up were for "Dress Barn" and "Boot Barn" - No thanks, Google, I would rather not get married in a chain retail store.
this site
lists many barns available for events all over the country and Canada. It's a great resource if you're looking to have a barn wedding of your own. They even list one barn in SoCal -
Strawberry Farms
in Irvine has an old barn now used to store golf carts at it's golf course and country club.

source.
I think that the rustic wood cabins at the
Pine Hills Lodge
will do just fine as a barn substitute. In fact, there are so many elements of the lodge that a barn just couldn't have (like lodging for our guests, plenty of bathrooms, good electricity, and kitchen amenities), so I am very grateful for our location - But, I certainly pine after these beautiful barn weddings that will never be my own.