I love love love the hair flower trend that has taken weddings by storm. There are so many creative and talented artists on sites like
etsy
that I wouldn't even know where to begin picking one out.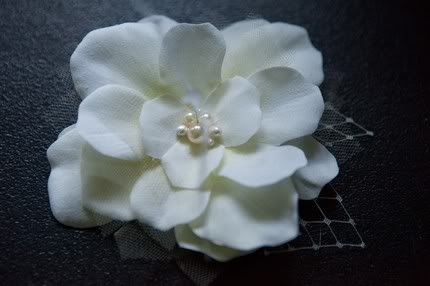 source: ohmydeer!.
I pose as a crafty person and I tend to think my creativity is one of my best features. That said, though, I often disappoint myself. I just rarely actually get around to all the crafty things I dream about or plan on doing. I have decided that the best way to fix that problem is by undertaking as many DIY projects as possible for this wedding. Of course, a hair flower was one of the first things to fall into that category.
I didn't fully trust my skills, however, so I decided to take on a test project first. I bought this vintage leather clutch from a thrift store for only $3.
It was cute and seemed like a great accessory for my wedding look, but it was missing a certain oomph. So, I decided to make a flower for the clutch first.
First, I gathered my supplies: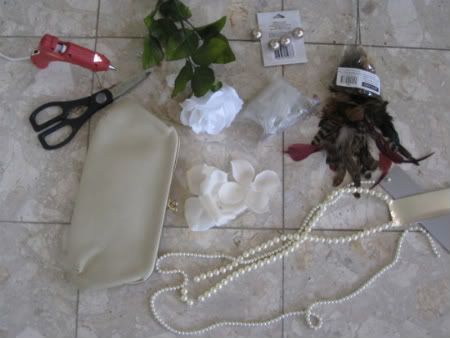 Glue Gun, Scissors, Clutch, Silk Flowers, Pearls, Feathers, and Sewing supplies (not pictured). Everything (except the glue gun, scissors, clutch, and sewing stuff) was purchased from Michael's during their summer madness sale for 25% off!)
Then, I pulled apart the silk flower:
The petals were all curled into the form of the original flower, so I ironed mine a bit. Once they were flat enough to work with, but still curled enough to give the flower some volume, I piled them on top of each other with the petals staggered.
After they were piled to my liking, I pinned the petals together (this is very important because at one point, I tried to sew it without the pins, and the petals came out of the form I wanted)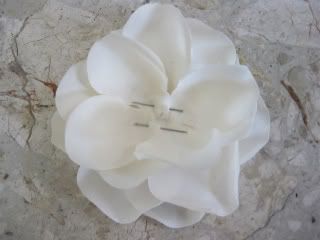 (Sorry, I don't have pictures for this part of the process)
After they were safely pinned together, I sewed the middles together. Just a few stitches held them all very nicely. The form of the flower was now compete - time to decorate! I then took six small pearls and strung them on fishing wire. I tied the two ends of the fishing wire, so the pearls were in a circle, and hot glued them to the inside of the flower. Then, I took one large pearl and hot glued it to the center.
Finally, I took some feather accents and hot glued them to the back of the flower.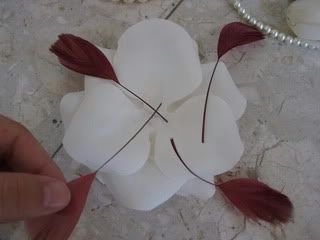 and, my beautiful flower was done!
Here she is on the clutch:
So, what do you think?
Will it be overkill to wear one of these in my hair and on the clutch. Since it turned out so nicely, I'm thinking about just using this one as my hair flower and doing something else to decorate the clutch - but, it sure does look good on the the clutch. What should I do?
*All images (except the first one) by me.