Loving on our antique theme has made me ogle many a beautiful vintage dress. I have especially fallen in love with the idea of the "getaway dress". One thing I cannot justify, though, is adding another dress purchase to my "must buy in the name of all things wedding" list.
Not to worry, though. This beauty is already sitting in my closet: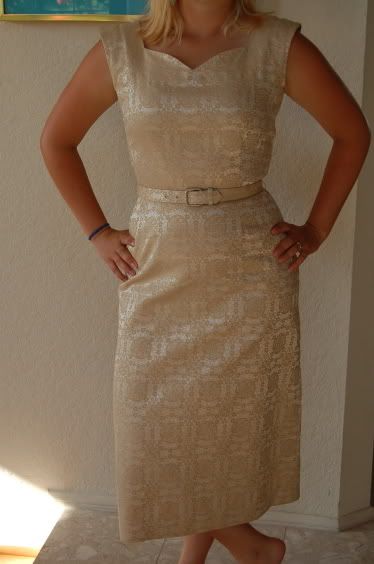 source: my personal photo.
(yes, that's me. yes, I was blonde.)
This dress was purchased my senior year of high school. A good friend of mine hosted a 1930's war era themed party for his birthday, and everyone get all dressed up. I bought this dress from a vintage boutique and added a cute pill hat to complete the look. The few guests at the party actually sums up my list of friends from high school who are invited to our wedding, so they have all seen this dress before. But, that party was four or five years ago, and I have not had an opportunity to wear the dress since.
There is one problem, however. The dress doesn't fit.
I was probably fifteen pounds lighter when I wore that dress, and it was difficult to move in even then. We won't actually be driving anywhere to "get away" since we're staying in one of the cabins in the lodge, so I don't need too much comfort and mobility in the thing, but I'm worried I won't be able to fit into it at all. I am planning on losing weight before the wedding (what do you expect? I'm a bride.) but, will it be enough?
My biggest wedding weight loss goal at the moment has nothing to do with my corset-back wedding gown, but instead centers around fitting into this getaway dress. If I can't make my goal, should I go looking for another fabulous vintage dress to wear or should hold back and only change into a getaway dress if  I've earned it?
Do you think the tradition of wearing a getaway dress is fabulous like I do, or will you want to wear your wedding dress as long as physically possible?