This article
from
Here Comes the Guide, California
talks about how Grooms are becoming more involved in the planning stage of weddings than ever. It compares the old:
"If for some reason he felt compelled to voice an opinion on wedding matters, his future wife and mother-in-law might very well have dismissed him, tsk-tsking disdainfully about the folly of a man mucking about in women's business."
to the new:
"over the last decade the involved mate has become standard, with men taking on some to all aspects of their wedding-day arrangements."
It goes on to explain that couples experience benefits through bonding together under pressure instead of feeling the strain from wedding planning. It also explains that the men who help plan their weddings tend to feel more satisfied in the whole ordeal.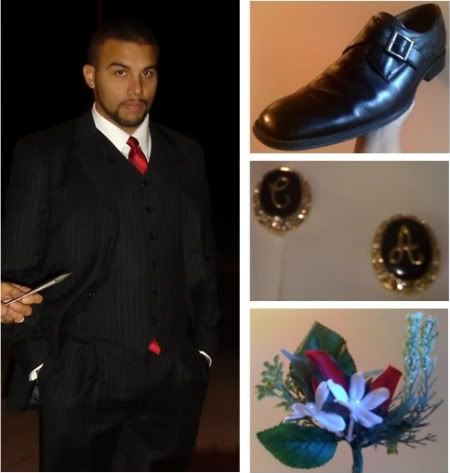 source.
His job is not to simply put these things on, look pretty, and say "I do" anymore.
My wonderful groom wants to be as involved in the wedding as he can. He regularly reminds me that this is his day, too, and he would like to be represented just as much as I am - changing the emphasis from choices that are "me" to choices that are more "us". It makes me swoon inside when he is the first to bring up our wedding in conversation - I love knowing that he cares about this thing that will bring us together as one just as much as I do.
There are, however, some hilarious setbacks to having an involved groom - like these wacky and/or clever suggestions:
- When I told him I wasn't too keen on the garter toss idea, he suggested we get a
T-shirt cannon
launch men's boxers towards our guests instead.
- He wants to wear a kilt to celebrate his Scottish heritage, but I'm pretty sure he's not quite Scottish enough to pull it off. At all.
- Without even discussing cake topper ideas with him at all, he suggested we get figurines of ourselves looking adventurous (with binoculars, etc) and place them across the table from one another on the cake buffet and have them looking out towards the other. He thought a nod to adventure would fit the travel aspect of our theme - Even though I already had a plan for our topper, I liked this idea so much that it has morphed into "adventurous" table numbers which I'll discuss later.
Is your groom involved in the wedding planning process? What funny ideas has he come up with while planning?