Part One.
One rainy day, (in San Diego. In August. Yes, it happens... sometimes) my wonderful best friend/MOH/FSIL and I decided to take a journey down
Antique Row
and look around a bit. I was mostly looking for vintage suitcases, but certainly had the guestbook postcards in mind as well.
First, we hit up the delicious
Antique Row Cafe
for breakfast - their Cinnamon Apple Pancakes can't be beat. Then, we started wandering through some of the shops. After rummaging through four or five stores and finding nothing, we were about to give up - apparently it wasn't our day. We ran across the street to one last store,
Zac's Attic.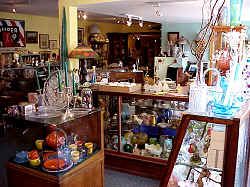 source.
This quaint little store had so much to offer, and the owner was very knowledgeable and extremely helpful. I told him I was looking for suitcases, and he explained that he sells tons of them all the time, but that the best way to find them is by going to some of the estate sales he hosts. He put me on his mailing list to inform me of his next sale. We were just about to head out the door, when I spotted a box of vintage postcards.
"Do all of these have writing on the back?" I asked as I began sorting through them.
"No, some of them are blank." He said, and started rummaging through the piles of stuff around him. "Those are part of my normal stock - they're a dollar each." He then held up a big bunch of postcards from the back, "These, however, I'll sell to you five for a buck."
I instantly abandoned the pile I was sorting through and grabbed the bundle he was holding out to me. It still took some sorting, but the majority of the postcards were blank and beautiful.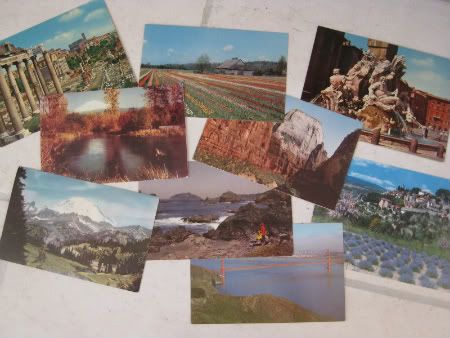 personal photo.
These are just a few of my favorites. Aren't they great?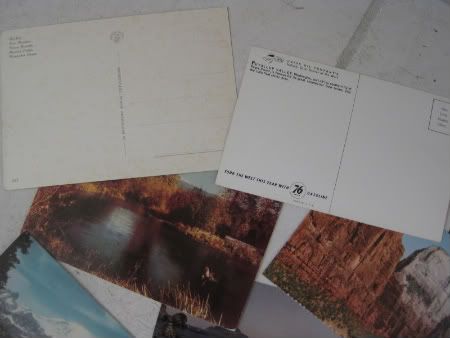 personal photo.
See? Totally blank on the backs - I can't wait until they're filled with notes from our guests!
I bought 75 postcards in all - only $15 plus tax. About half of them are smaller and have pictures from California, Oregon, and Washington. The other half are a little bit larger and have pictures from Europe - mostly Italy. I love them so much that I keep looking through each and every one.
So, if the "normal stock" cost $1 each, how did I get such a great deal? Well, the owner explained that my postcards were from a bunch of stuff that he was preparing for the upcoming estate sale. He wasn't even supposed to be in the store that day, but his employee called in sick, so he brought some stuff to go through in with him. He had literally just looked through the postcards when we came in. Amazing, huh?
We certainly got lucky, and I think you could too with enough diligence. I plan to go to all the estate sales I can and routinely scour the antique stores until I get my suitcases.