I've already warned you that I would be stealing inspiration from many of weddingbee's bloggers. I've even specifically mentioned
Mrs. Cherry Pie
as a major source of inspiration. And, so it begins...
In
this post
, Cherry Pie shows off an antique mailbox that was used with vintage postcards in lieu of a guestbook:
source.
In her recaps, she shows off how the same concept was executed at her own wedding.
this detail post
has more inspiration for my wedding than any other single post could dream to have.
source.
I love it. Postcards from all over the country or even the world would be a fantastic nod to our map theme and add in a fun element of travel. Also, this will encourage guests to write more than a simple "congrats!" and their signature - it will provide the space for advice, witty comments, and more. I think it's a great way to make the guestbook even more personalized and truly fit out theme, look great, and provide something fun for our guests (hopefully)!
To amp up the travel idea, I've thought about using a vintage suitcase to put the post cards in instead of a mailbox like the photos above. As a bonus, if I collect enough vintage suitcases, we can use them in pictures like
Mrs. Avocado
(another huge source of inspiration).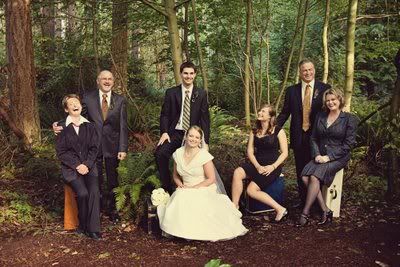 source.
One thing that has not been very clear in these posts about using postcards as a guestbook is what to do with the postcards
after
the wedding. Mrs. Cherry Pie had them mailed to her so she and her husband could read them after their honeymoon, but what did they do with them after they read them? I don't think I would want them to be mailed - I want them to stay in a good condition and last a while. I also want to be able to display and store them in such a way that we can access them for years to come just like a real guestbook. Since most postcards are a standard photo size, I figured a photo album would work. I stored the idea away and figured I could find a good album after the wedding, until I found this at Barnes and Noble:
source.
Antique map, leather bound photo album? It's perfect! It's so perfect, in fact, that I can't just store it away, waiting to hold the postcards. I now plan on having it on display at the wedding as well - holding our engagement pictures and possibly other pictures of us - and I'll switch it out and/or add the postcards later.
Now, I just need to get ahold of the vintage postcards and suitcase(s). Mrs. Cherry Pie's are vintage replicas from
here
, but they don't seem to represent as much of the world as I'd like (They have many representing the Montana countryside - perfect for Mrs. Cherry Pie's Montana wedding). Ebay has some listings that I'll check out, but I need to be sure the backs of the cards are blank. As far as the suitcases go, I plan on scouring antique stores religiously - maybe I'll find postcards there as well.
Are you going with a non-conventional guestbook? I'd love to hear about your ideas.