David asked me what kind of ring I might eventually want as an engagement ring a mere
two weeks
into our relationship. (Yes folks, we meant business) That early into the stage and without significant time to doubt myself, I told him exactly what I wanted - White gold, solitaire, and
not a diamond
. I had seen many a Weddingbee post about the
conflicts
of gaining diamonds, and how important it is to find a
conflict-free diamond
. These issues became very important to me, but honestly, it was easy to give up the ideal of a diamond engagement ring simply because it didn't seem "me". I tend to go for things that are more unique and dislike things that are overdone. A diamond engagement ring seemed the obvious, common choice to me, so I wanted something different.
At first, I wanted an opal ring. Opal is my birthstone, and I love love love their colors and unique look.
source.
this ring just about covers what I was thinking in my early stages of ring dreams.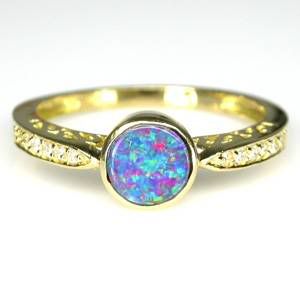 source.
this ring is perfect - the darker opal is more rare and lovely - I just would have preferred white gold.
In the early stages of our relationship, David and I even found a fantastic opal ring that was on sale for an even more fantastic deal because the jeweler was retiring. David came so very close to buying it, but we decided it was too early and forced ourselves to move on. It was good that we didn't buy the ring, though, because unfortunately, my opal dreams soon faded. It turns out, Opals are very soft stones and are not meant for everyday wear. I was worried that having an opal ring would cause too much stress and that I would surely scratch the stone.
I was still set on my high and mighty no-diamond stance until one of my roommates got engaged. That was when I wavered. My roommate was given an absolutely stunning diamond solitaire in a cathedral setting. The diamond stood high and glorious and was oh so shiny. I kept telling myself that it was beautiful but just not for me, but she got so much attention because of that dang ring. Everyone knew she was engaged. There was one particular time when we were searching for housing and at an open house, the landlady grabbed her hand and launched into a conversation about weddings and her engagement and all. This was when I started to think I might want a diamond ring. After all, the whole point of an engagement ring was to announce to the world that you were engaged, right? How would I announce something so important without the typical symbol of such a thing? This was, after all, probably going to be my only chance to have such an important diamond all to myself, so I might as well get one, right? And finally, diamonds were the hardest stone there is and they match everything -of course it was what I wanted to don on my finger for the rest of my life.
During this wavering time, I started to think about what my ring would look like if it were a diamond. I knew I still didn't want something too "typical", I didn't want anything too flashy, and I didn't want the setting to be too high that it got in the way. I made this collage to give to David if he wanted to start shopping: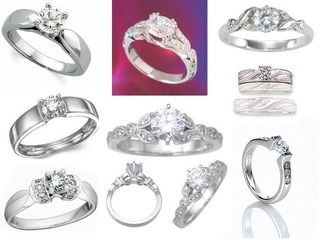 personal photo - sorry this was early in the game and I didn't know how to mark the individual sources.
I was convinced for quite some time that the top right ring was the perfect ring for me.
Of course, more time passed which gave me more time to doubt myself once again. After my slight wavering and despite my many good reasons for a diamond, I realized once again that a diamond really wasn't for me. Since I also knew that an opal wasn't for me, I started researching other options. I discovered sapphires and found a really great sapphire ring that I told David about. At that point, I was ready to just let him pick something. And boy, am I glad I did. On December 22, 2008, David proposed to me. In his hand was this ring:

personal photo - I know this is an awful picture. I'll post some better ring pictures following Anne Ruthmann's Tutorial later.
This. ring. is.
nothing
. like. what. I. had. been. looking. at.
and I absolutely love it.
My ring is set in yellow gold and is a halo setting - both things I thought I did not want, but both things that I truly adore about my ring now. The antique look of my ring has been a major inspiration for our wedding theme, and I feel that everything about it is very "me" - especially since yellow gold rings aren't as common these days.
My favorite thing about my ring is that it is a Garnet. The significance - which I explained in my
engagement post
- makes it so much more special to me than any other stone could be. I love my engagement ring, and I love that - in spite of my immense research, changes of mind, and picks for myself - my ring is something that David picked out all by himself especially for me.
I love engagement rings of all kinds, but certainly have a special place for non-diamond (or ones that don't have a diamond as the main stone) rings. Care to share yours? What significance does your ring or the journey to find your perfect ring have for your and your significant other?