I considered many venues and locations in San Diego before deciding upon
The Pine Hills Lodge
in Julian. I would like to share my research and decision process in a "San Diego Venues" in hopes of helping some brides-to-be in deciding on where to have their own San Diego wedding.
First Venue: Balboa Park
Balboa Park
is one of my most favorite places on earth. It is also one of David's most favorite places on earth. We also happened to go there during the day that I consider our first date. It also happens to be one of the most beautiful and common places to be married in San Diego. Plus, it's super close to home, has plenty of parking, and is a great representation of our hometown. With all of that being said, you'd think that Balboa Park would be the perfect place for
us
to be married, right?
source.
Well, I considered it, but eventually decided that Balboa Park weddings were actually
too
common, and while the place is very "us", having a wedding that is not unique is not. In fact, I was wandering Balboa Park with a friend this past Saturday, and within less than an hour we saw
eight brides
, two engagement shoots, and a
quinceanera
. In case you weren't counting, that's
ten
wedding related couples taking photos, and
nine
different girls in big, white dresses. They all seemed to find their own space for pictures and didn't seem to be in each other's way, but I really want to be the only bride around on my wedding day. If having many brides around wasn't a problem, I would still worry about confusing my guests. Granted, of the eight brides we saw, some of them were just in the park for pictures and were probably having their actual wedding elsewhere, but there were at least three different weddings and/or receptions actually happening in the park that day. I would fear that guests would get lost, or worse, end up at the wrong wedding. In fact, an elderly couple dressed in formal wear approached my friend and I asking for directions to one of the weddings.
Although it wasn't right for me, many many couples have the wedding of their dreams in Balboa Park every year. In case you're looking to be one of those brides, heres
everything you need to know to get married at Balboa Park
.
First, there are more than one different routes to go through:
These three options offer very different weddings at very different price points, so I will talk about each in separate posts. First, let's discuss the most popular and inclusive option -

The Prado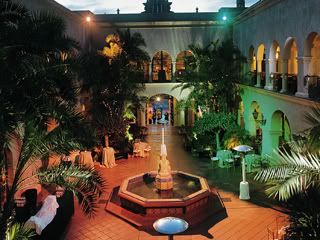 source.
The fountain courtyard is where you can find the entrance to the restaurant. It is also where the Cocktail Hour is hosted at Prado weddings.
The Prado is Balboa Park's fine-dining restaurant located in the
House of Hospitality
. All Prado weddings are done through the restaurant and offer catering packages with food from there as well. (YUM!)
The Prado Wedding Brochure, available for download on The Prado's
website
goes over everything each wedding package includes and the various locations available. Here's the information in a nutshell:
Each Prado wedding includes:
Ceremony:
• White Outdoor Chairs
• Gift and Guest Book Tables
• Bridal Changing Room
• Scheduled Rehearsal Time
• Outdoor Sound System for Officiant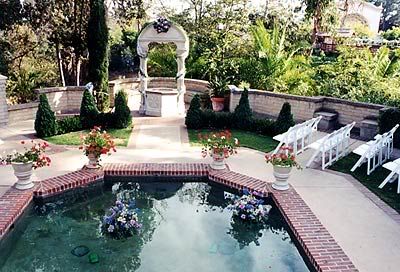 source.
This ceremony site, The Casa del Rey Moro Gardens, is available for use only to Prado wedding patrons and is not included in the regular Balboa Park public properties that are available by permit.
The fountain and wishing well make The Prado's ceremony spot beautiful and unique. It can accommodate up to 320 guests on it's multi-level terrace. The only downfalls are that the location does not have a central aisle (there's a fountain in the middle) and guests seated on the top level seem pretty far from the action, in my opinion.
Reception:
• One Hour of Silver Level Brand Bar
• Tray Passed Hors d'oeuvres with White Glove Service
• Luncheon or Dinner Menu designed by Award Winning Executive Chef Jeff Thurston
• Formal Champagne Toast
• Professional Staff-Synchronized Service
• Wedding Cake Provided by Flour Power
• Full Length Table Linens, Gold Chiavarri Chairs and Porcelain China
source.
There are three main options for indoor reception rooms - The Grand Ballroom (pictured above), the Loggia room, and the Alhambra room. The Grand Ballroom seats 320 guests while the Loggia and Alhambra seat 80 and 60 respectively.
I've seen many weddings going on at The Prado during my regular visits to Balboa Park, and they always seem so very elegant. The Chiavarri chairs alone are to die for. Plus, the location and all-inclusive service can't be beat. I don't remember the exact package prices, but I know it was way out of our budget. If anyone is interested, I can try to hunt down the price list e-mail I got when inquiring way back when.
The Prado is the ideal option for a Balboa Park bride who wants an elegant wedding with inclusive packages and ready-made locations and options. It is the easiest, most elegant, and most expensive option for getting married in Balboa Park.
For more information on weddings and special events at The Prado, go
here.
Stay tuned for information on weddings at the Japanese Friendship Garden, the Museums, and the park's public spaces.