Yesterday, David, his younger brother, his sister (my MOH), and I headed out to Julian to taste some of the meats and sauces at the
Pine Hills Lodge
to finalize our menu. We still have a lot of time to change our minds of course, but it sure was nice to get a taste, be assured that our wedding food will be fab, and check the whole decision process of our "to do" list.
When we arrived, we were seated, brought water, and Hanna (the lodge's proprietor) brought us their album of photos from previous weddings there to page through. Michel, the very French and very fun chef then came out and explained that he would be bringing out the various dishes of meats one or two at a time.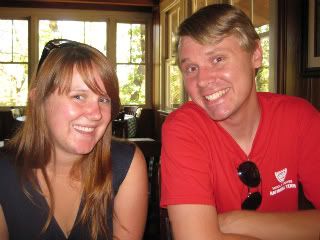 We're ready to test out some tasty foods!
(note: I don't love this picture. We were in a hurry to get to Julian, so I have no makeup on whatsoever. I'm also in dire need of a haircut/bangs trim. But, I love you all and wanted to document our day. Hooray!)
Have I told you how much I love this family? If you're single, I highly recommend dating siblings of your best friends - it eventually leads to gaining said best friends in your family! :)
All of our meat choices were off of the least expensive menu that the Pine Hills Lodge has to offer (at $27 per person). They offer more expensive menus (at $31 and $40 per person), which include Salmon, Top Sirloin, Stuffed Chicken, Prime Rib, etc, but we were quite satisfied with our cheaper options. We were supposed to choose two dishes from the various meat/sauce options to be to main entrees in our dinner buffet.
Anyway, on to the food!
First, Michel brought out the
Classic American Angus Beef Pot Roast
. It was
good
. So tender, so tasty. I decided after the very first bite that I wanted to include this dish on our menu. 3/4 of us were sold and loved loved loved it!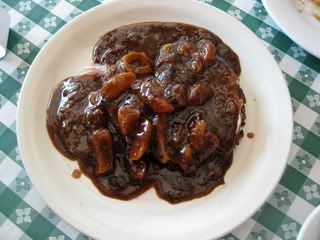 Next came the
Roast Pork Loin with Apricot Chipotle Sauce
. This was David and his brother's favorite. The sauce had a surprising spiciness, but was also very sweet. I agreed that this was the most interesting sauce of all of our options, but the pork did not seem to be as great a quality of meat as the pot roast had been.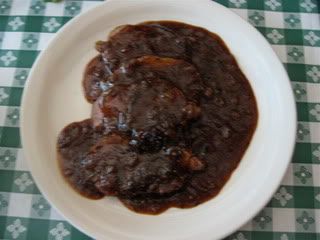 sorry this picture is so blurry, the lighting was less than ideal for my poor point and shoot.
Our alternate pork option was the
Roast Pork Loin with Jack Daniels Sauce
. I generally love Jack Daniels sauce on meats (it's the main redeeming factor of TGIFriday's to me), but we all agreed that this one wasn't anything really special. Moving on.
The first chicken dish we tried was the
Grilled Chicken Cacciatore
. This was another favorite of ours. The tomato sauce was seasoned really nicely, and it complimented the chicken well.
The
Grilled Chicken with Port Wine Sauce
was one I was most excited about just by the name of it, but after trying it, none of us were too impressed. Like the Jack Daniels sauce, it just didn't seem to have as much character as some of the other options.
Our final chicken option was the
Chicken Supreme
. I'm not really sure what was so "supreme" about it - it was just chicken in a white sauce - but, it was my first pick for chicken. David liked it, too, but thought that the sauce was a little weak. Not to fear, we were told to pick one of these sauces to mix with it:
The basil sauce (left) and the dill (right) were both very good. David chose the basil since I couldn't decide. The dill would be absolutely fabulous on salmon.
Our final choices were the pot roast and the chicken supreme with the basil sauce. We decided against the chicken cacciatore because it seemed more fitting to have a light sauce with the chicken to go against the red meat. Our final menu is as follows:
Mixed Green Salad with Ranch and Balsamic Dressing
Classic American Angus Beef Pot Roast
Grilled Chicken Breast Supreme with Basil Sauce
Rosemary Roasted Red Skin Potatoes
Green Beans Almondine
Rolls & Butter
David and I both declared that we would probably be eating the pot roast at the wedding. We're both big chicken people (
Chick-fil-A
anyone?), but that pot roast was too good to pass up.
After our tasting and talking over a few more details with the staff at the lodge, we headed over to
Mom's Apple Pies
for some wonderful apple pie goodness. (David and I have been going through both seasons of
Pushing Daisies
, so I have been craving pie for some time now.)
Some of these delicious pies will most definitely be included in our cake/pie buffet.
What do you think? I'm getting hungry just typing this all out.
Did your venue automatically provide a caterer? Did you do a tasting with them even though you didn't have any other choice in caterers? What are you most excited about food-wise for your wedding?
*all photos my own.