I've already discussed having a
cake buffet
instead of the traditional, tiered cake. However, I still want to find a way to include a cute, unique cake topper in there somewhere. I'm thinking we will have a main cake in the middle - maybe raised higher than the rest. It can have a topper, be the focal point for photos, and be the cake we cut (if we do the cake cutting).
There are so many super creative and unique cake topper ideas out there. Here are just a few: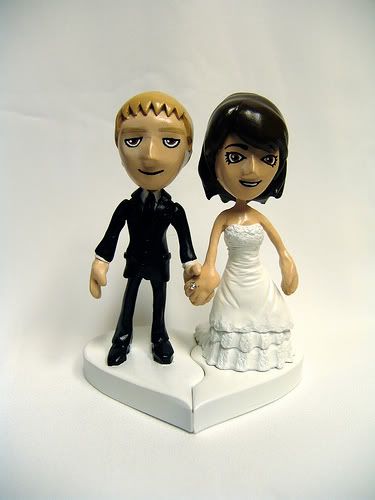 source for both.
Mii and Xbox Avatar toppers! These cuties are handmade by
Paul Pape Designs
to look exactly like your own personalized Mii icon from the Nintendo Wii or your Avatar from the Xbox 360.
David is a big fan/player/connoisseur of video games, so I'm sure he would love these. I admit I have both a Mii (or two) and an Avatar on his game systems, so we would have models to make these. I think the Mii figures would make a better topper, since Nintendo gives more freedom to customize every element of the face to look more like you. Plus, I prefer the Wii to the big and scary Xbox. ;) Unfortunately, at $150-$250 each these are out of our budget and they don't quite fit our decor, so we probably won't be choosing these. Moving on...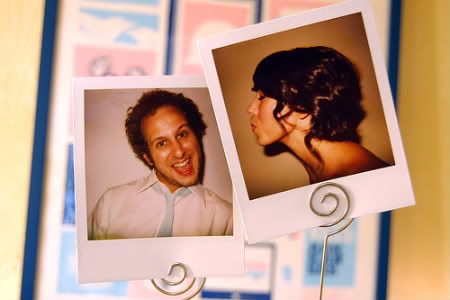 source for both.
Polariods! I LOVE this couple's Polaroid cupcake topper. However, since Polaroid stopped production in 2008, there may be too many complications to make this topper a reality.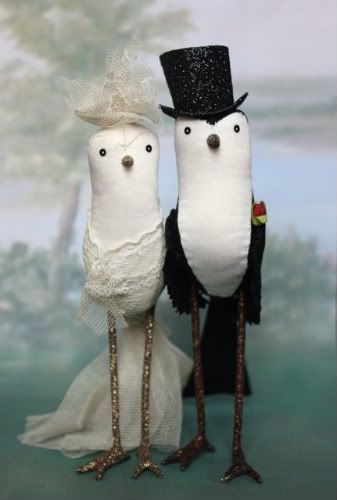 source.
Birdies! Of course, I am another huge fan of the absolutely adorable
Ann Wood
handmade bird toppers. I mean, who wouldn't love these little guys? These are also, unfortunately, way out of our price range, and are consistently sold out.
Bees
have
blogged
about
other
options
. I love bird designs, but since they're on our china, earrings I wear on a daily basis, and our living room chairs, I think including them in our wedding might be overkill.
source.
Monograms. I think Monogram cake toppers are very elegant, simple, and beautiful all at the same time. It certainly personalizes the cake (I mean, they're the couple's initials, after all). However, as I've already
discussed
, our monogram doesn't quite work.
This one (below) uses just first name initials and is really cute. I would consider something like this if I felt like it fit our theme better.
source.
I think that monogram toppers are a great choice for some, but I definitely think they would look better on a traditional cake instead of among many cakes in a buffet.
These ideas all make great cakes look even better, and at the right wedding could be the perfect choice. They just aren't quite right for us. So, what will we choose as a topper? Stay tuned while I share our journey to the perfect cake topper.