Part one.
Part two.
Part three.
In a moment of DIY doubt, I found an ad on the
weddingbee classifieds
for these: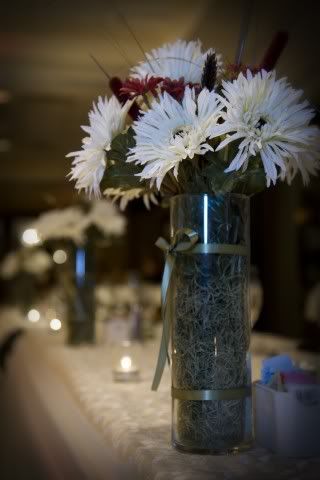 If the wonderful creator of these beautiful centerpieces would please ID herself,
I would love to credit you. I'm so sorry I lost the e-mails we sent.
Something about the simplicity and rustic feel to these centerpieces struck me. I loved the silk daisies, I loved that it included both a rustic brown and cream as well as our burgundy and sage. I loved how they
looked
handmade without looking cheap or messy. They were understated. They really seemed to fit our look at the lodge.
The bride who had made these for her own wedding was hoping to sell them to be used in a future wedding. I was so tempted to snatch these up and call my centerpiece dilemmas over and done with - I even e-mailed the seller. She told me that she wanted a total of $100 for all twelve centerpieces, fully assembled. Apparently many brides wanted just the vases or just the flowers for DIY projects of their own, but she preferred to sell them intact. I eventually decided that dealing with shipping them to me and worrying about the glass breaking and flowers bending was not worth it, and I declined her offer. I do hope she found a happy buyer so these beauties get to be used again!
I considered duplicating these centerpieces almost exactly, but felt guilty for not having just bought them. I would have been stealing another 'bee's work
and
it probably would have ended up more expensive anyway. I did know, though, that I wanted to somehow include these centerpieces into my growing pile of inspiration.
I don't exactly know what my centerpieces will look like, but here's a pretty good illustration of where I stand:
I've been collecting bottles to turn into vases: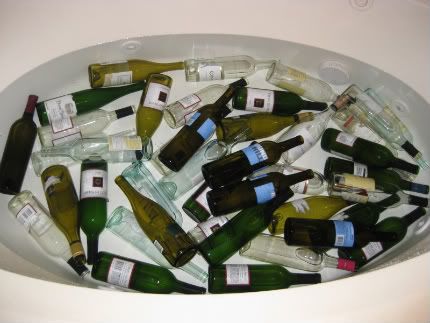 and after a big sale at
Michaels
, I ended up will all of this: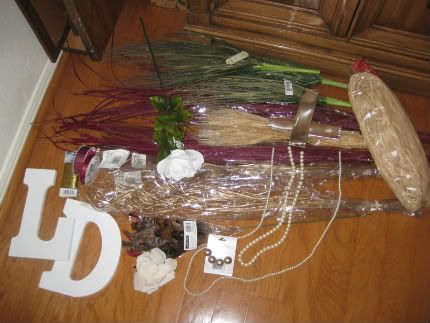 Now, the question is: will I ever be able to pull it off?