... and please don't come back on my wedding day.
Today, I'm posting late because I'm feeling sickish. After a brief trip to Chick-fil-A for some tasty chicken noodle soup (I'm spoiled - Campbell's just won't do the trick when I'm sick, heh), I've spend the majority of the day sleeping on the couch. When my Immune system is under pressure, I often get
cold sores
on various parts of my mouth and chin. Often extremely painful and embarrassing, I have gotten these little devils at least once a year since early elementary school. When I was little, I would get the same one in the middle of my chin every year around Christmas time, when it was just starting to get cold outside. In college, the areas where the sores would come spread to various spots around my mouth, just under my nose, and the same chin spot. It is now common for me to get two cold sores at once.
The sores are caused by any type of extreme stress my body is put through - this includes actual stress, weather changes, and more. Currently I have two sores, and I blame it on the fact that San Diego has been significantly more hot and humid than normal the past two weeks or so. Living in San Diego means I'm spoiled - "extreme" weather changes are much less for my body now when the weather normally rarely changes.
The point?
I am deathly afraid that I will have a cold sore on my wedding day.
I'm pretty much guaranteed to be at least a little bit stressed as our day draws close, and I don't want that stress to show through in an extremely unattractive and painful bump (or two) on my face.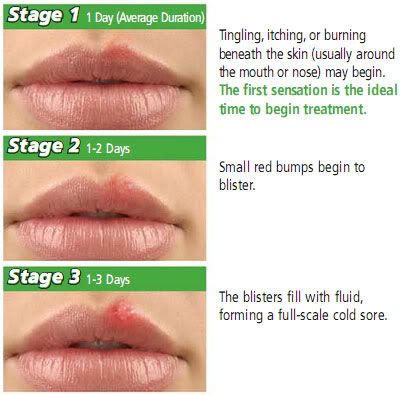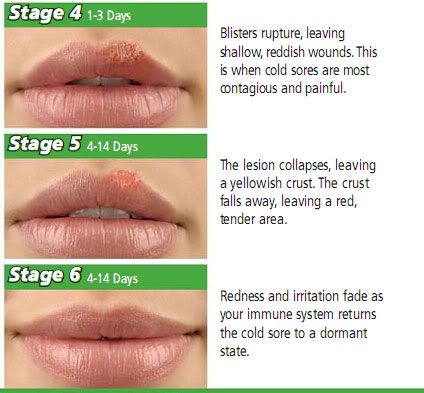 source.
This chart shows that cold sores can last up to 14 days. That means if I get one any time within two weeks of my wedding, it could still be there when the day arrives. Oh, and for the sake of you readers, I posted these pictures instead of some more gruesome ones. I'll just have you know that the cold sore(s) above are tame - they can look a lot more gross than that. (EWW! OWW!)
Another unfortunate side-effect of my cold sores is often a
swollen lymph node
on my neck. This is also painful and significantly increases the chances of looking like I have a double chin in photos.
So, what am I going to do about it?
Well, for one, I am going to do the best I can to not get stressed out about our big day. I will enlist the help of friends and fsmily to get our projects done in plenty of time, and I will enjoy the days leading up to the wedding.
Secondly, I am looking into a good medication. It seems that most over-the-counter cold sore medications claim to do the same things as the prescription ones, and often come with less side effects. I don't know if they are as effective, though, so I am thinking about getting a prescription. Do any of you have experience with OTC vs. prescription cold sore medications? Any advice?
Finally, I am going to look into a good make-up artist. Make-up was not something I originally budgeted for, thinking I could have a friend do it. I do not wear much make-up on a daily basis, and haven't really mastered good cover-up skills without looking like I'm wearing stage make-up (which I do have experience with from high school drama). I hope to not spend too much, but I really feel like having a professional would be worth it. One major concern, though, is that since we will already be out in Julian the day of the wedding, I will need to find someone who can come to our venue. I guess this begins my search to find make-up artists in the tiny town of Julian and the surrounding ares. Wish me luck!
Do you have any health concerns that you're trying to avoid for your wedding day? How are you doing so? Do you have any advice for the cold sore sufferers like me?