Before we were engaged, during one of our many conversations about marriage and our future engagement, David told me that he wants an engagement ring too. You're probably thinking,
wait, an engagement ring for a man? How would that even work?
At least, that's what I was thinking.
David made his reasons very clear and convincing - he was making the same commitment as I was, so why wouldn't he make the public statement to others as well? A ring seems to be a clear sign that someone is "off the market", so why would a woman clearly be so at the moment of engagement while men sail free until the wedding day? He wanted a token of our commitment and a clear sign to others of his love for me - how could I refuse? However, I was immediately plagued with many questions:
[1] Would wearing a ring make people assume that David was already married?
[2] Would the above possibility take away from the moment we get our wedding rings and "make it official"?
[3] Should he wear the engagement ring on his right hand, so as not to bring about confusion?
[4] Would a ring on his right hand even be noticed as a statement of our commitment?
[5] Will he wear two rings after we are married like a woman does?
[6] How can the engagement ring be distinguished from the wedding band? (ie: a woman's diamond solitaire vs. a plain band)
To try and find answers to these questions, I reached out to the lovely posters on the
weddingbee
boards, found sites like
this one
and
this one
which embraced men's engagement rings as a growing trend and provided some ideas.
I quickly answered many of my questions - David should wear his ring on his left hand so it's significant and yes, people may assume he's married but that's okay since the point is to show his commitment to me. I originally envisioned a more elaborate engraved ring as his engagament ring and pairing it with a simple band as a wedding ring. After scouring many many jewelry stores, I found that the type of ring I had in mind was pretty much non-existent. All of the intricate hand-carved designs I loved were [1] way too pricy for my budget and [2] generally way too thick a band to pair with another ring like I'd imagined.
My solution? Why,
etsy
, of course!
After actually asking David his opinion (all of the previous shopping and questioning was in private so as to keep the fact that I'd taken his request for a ring to heart a surprise), I discovered that he wanted a much more simple band anyway. I decided to go simple and get an engraving inside and worry about the wedding band issue later.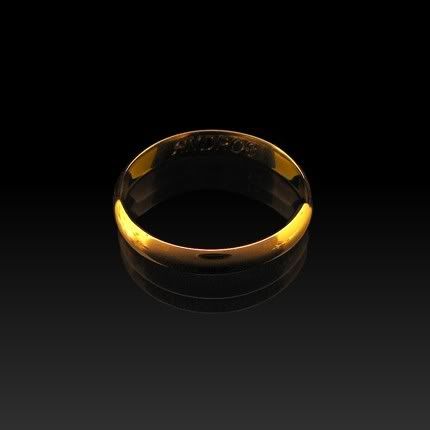 source
I bought the ring above from etsy seller
Andros Creations
and couldn't be happier with my purchase. The ring was very affordable, is handmade and lovely, matches my engagement ring perfectly, and came with a free engraving of my choice.

personal photo. David's actual "mengagament ring" with my own ring. Sorry it's a bit blurred.
The engraving says "Sempre" which means "always" or "forever" in Italian. What's even greater is that it actually implies an ongoing type of thing that gets even greater as time passes - something that I hope will be true of our love. (Awww. haha)
During the first summer of our relationship, I spent five weeks in Italy for a study abroad program. Spending that amount of time so far away from one another really caused David and I to work through many elements of our relationship and showed us how much we don't ever want to be apart. While I was away, I went to a music festival in Florence and somehow ended up with a free bracelet that said "sempre dalla tua parte" which means "always by your side." Even after I got back in the states, our relationship was still long distance since I was in Berkeley and he was down here in San Diego, so I gave the bracelet to David. He took it with him literally everywhere he went whenever I was away so that I could always be with him (again, awww.) I wanted to use that phrase for his ring's engraving, and then figured that "sempre" alone conjured the ideas behind the bracelet while also speaking further about our love and life together.
I gave him the ring on our two year anniversary (which I'll save for another post), and he loves it!
We still don't know what we're going to do about a wedding band. The ring is pretty thin, so he could technically wear another band with it, but since this one's so simple should the wedding band be fancier? We're considering just using our engagement rings anyway (which, again, I'll post about later), but I'm not set either way.
What do you think about engagement rings for men? Does your fiance have or want a ring for himself?