The most beautiful wedding I've ever attended was that of my sisters' high school cheer coach and my musical theatre choregrapher. She and her husband had never kissed until the officiant said "you may now kiss the bride." Waiting to kiss until the wedding day would never (and obviously did not) work for me, but the moment this couple kissed, and the bride squealed was absolutely beautiful. Everyone knew how special this moment was to them, and there was not a dry eye in the whole place.
One of the most beautiful and unique aspects of the wedding to me, though, was the venue. The couple got married atop
Mt. Helix
in east county San Diego, and their married inspired me to plan a wedding there as well.
source.
According to
the website
for the Mt. Helix Park Foundation, the mountaintop is "The Crown Jewel of East County [San Diego]" It says:
Mt. Helix Park is recognized as one of San Diego County's most magnificent landmarks, where people come for spectacular views of San Diego, family picnics, romantic weddings and simply relaxing in the quiet beauty of the area.

Have you ever experienced that sense of wonder when, while out enjoying the splendor of the day, you find your eye drawn to a ridge top or mountain peak? Did you think "I wonder what's up there?" or "Are we allowed to go up? "Welcome, then, to your very own "mountain peak." Come up to the top—you're very welcome.

Many people come every day to enjoy the peace, serenity, and amazing views high atop Mt. Helix. Bring your picnic. Bring your friends and family. Mt. Helix Park can even become an unforgettable venue for some of your special events.We invite you to learn more about Mt. Helix Park. As you journey through this web site, discover how to use the Park, enjoy it, and allow it to play a role in your family's memories for years to come.
I remember standing at the egde of the mountaintop during the cocktail hour of my friend's wedding, staring out in awe at the view. The lovely vista and heartstring ceremony really touched me and made me sentimental.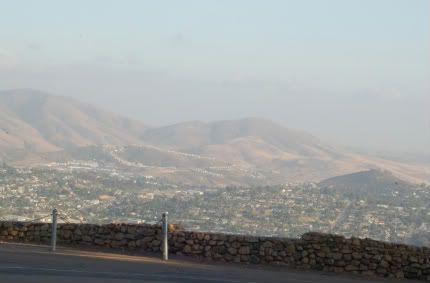 personal photo.
The view is better in person (or in better lighting), but you get the point.
So, I knew I wanted to get married in that very place, and the research began. Enter the
Weddings tab
of the Mt. Helix website.
The fee chart listed explains the various fees for the site depending on event size, time of event, and whether or not food and/or alcohol would be served. I learned that a wedding with 26-100 people would cost $300 for three hours during the day and $400 for three hours at/around/after sunset. For both a wedding and reception (up to 8 hours), serving food but no alcohol, it would cost $700, and a wedding and reception with food and alcohol would cost $800. For weddings with receptions over 100 people, alcohol is not allowed, and the rental is $1,000.
Okay, so far, so good. We could rent the space for $800 and still have the freedom to serve food and alcohol. Eight hours seemed like a fair amount of time, especially for the price, and there was no way our guest list would go over 100. But, here's the kicker: When hosting both a wedding and reception, the rental duration is
not permitted after sunset
. So, we would have had to finish the reception before the sun went down (in fact, the rules and regulations state that
"all park events must conclude no later than one half hour before sunset"
), making it a very early day for everyone.
But, the area was just so beautiful and set a nature-y, rustic mood that I didn't want to pass up, so I considered having just the ceremony there. $300-400 seemed pretty reasonable, and it wouldn't be too difficult to find a reception spot nearby, right?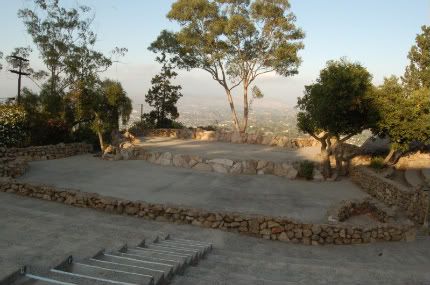 personal photo.
The view of my desired ceremony area from the amphiteatre seating above.



personal photo.
The ceremony spot. Taken from the seating area, facing the "altar".
But then, I ran into a few more obstacles:
[1]
Rentals:
The park came bare-bones, and since I wanted to have the ceremony on the flat level instead of using the amphitheatre as seating, our total venue fee would go up significantly once we included chair rentals and more.
[2]
Restrooms:
The rugged mountaintop contains
no restroom facilities
. In order to rent the space for more than 25 people, at least one portable restroom rental was required. I wasn't too keen on having a port-a-potty at my wedding, and it would also add to the cost.
[3]
Parking:
Mt. Helix does not have a big parking area atop the mountain, in fact, somewhere in the Wedding regulations, they state that only bridal party specific vehicles are allowed at the top. Also along with the rental, it is required to rent a minimum of 1 shuttle per 75 attendees and to hire at least 1 parking attendant per 50 attendees to get guests from a lower parking area to the mountaintop. Again, this would hike up the cost (see a trend here?) and make things more complicated - especially since we would need guests to park, take a shuttle to and from the ceremony, and then still drive to the reception.
[4]
Reception options:
Other than a few dingy community centers, I could not find any kind of reception location (especially not one that would satisfy me) within close proximity to the mountain. After making guests deal with the shuttle situation, I did not want to make them drive too far.
After seeing how complicated the logistics would be and how much the price would surely rise, I gave up my dream of a Mt. Helix wedding, but I still think it would be a great location for those willing to work through it and for smaller ceremonies with less of a reception to plan and get to aterwards.