Part One: The Prado
Part Two: Private Museums and Gradens
The third, and least expensive way to host a wedding at Balboa Park is by assembling in one of the parks many public spaces. To do this, you would need to hold a permit from the San Diego
Parks and Recreation
office.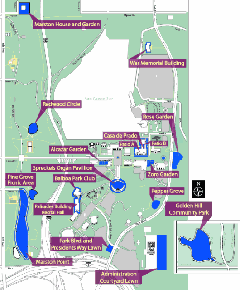 click image for source and larger image.
The map (above) lists the following public locations that allow weddings with permits:
[1] Administration Courtyard Lawn
[2] Alcazar Garden
[3] Balboa Park Club
[4] Casa del Prado
[5] Casa del Prado patio A
[6] Casa del Prado patio B
[7] Golden Hill Community Park
[8] Marston House and Garden
[9] Marston Point
[10] Palisades Building Recital Hall
[11] Park Blvd. and Presidents Way Lawn
[12] Pepper Grove
[13] Pine Grove
[14] Redwood Circle
[15] Rose Garden
[16] Spreckels Organ Pavilion
[17] War Memorial Building
[18] Zoro Garden
As the map shows, these locations span areas all over the park and represent very different ares and looks to wed.
It includes indoor locations like the
Casa Del Prado
and the
Balboa Park Club
.
There are also many outdoor locations - varying from gardens like the
Rose Garden
and the
Alcazar Garden
to outdoor locations featuring the park's grand architecture like the
Sprekels Organ Pavilion
and the
Casa Del Prado Patios
.
When I was looking into a Balboa Park wedding in a public space, I was particularly attracted to hosting a picnic or garden themed wedding at the
Redwood Circle
(below).
source.
Assembling in these public spaces comes with its own set of
rules
. Each location has specific hours (most locations kick you out at dusk while some stay available until 10 pm) and capacity limits (anywhere from 50 to 2,400 people depending on the location). They also have specific restrictions on what can be brought in (no glass) and explanations on how to dispose of all the trash yourselves. There are also varying fees, and you can contact the
permit office
for more info.
source.
This beautiful wedding took place at the Sprekels Organ Pavilion. The bride had the following advice to give:
"We couldn't have had a better wedding day, and location was everything. Everyone commented on how beautiul the Park was... Just be sure to triple check ALL contracts with SD Park & Rec, ESP when using the Spreckels Organ. We learned 3 days before that there was a conflict with our start time and a Prado wedding...and it was not pretty. I'd recommend contacting the Prado separately before confirming your time with SD Park & Rec, bc their calendars are not as in sync as they claim."
quote source.
Ultimately, the public space option had too many loops to jump through and too many restrictions for my liking. While it was certainly a much cheaper option than other Balboa Park wedding routes, there were a lot more logistics to work thorough.
For one, most of the locations available did not have chairs, tables, etc. there already. Renting these things is not a problem, but it adds an extra vendor and more complications.
Secondly, in order to make our outdoor "picnic" wedding more elegant, I was hoping to have it at night - with twinkle lights and candles setting the mood. Since the latest these permits could possibly last was 10 pm, and we would have been expected to finish clean-up and everything by this time, I decided it was not ideal.
Lastly (and most importantly), these spaces are
public
. Getting a permit from parks and rec. would simply make assembling with a large group legal - it would not make the location private to our wedding. While I had plans in my mind of how to have friends act as "bouncers" of sorts to try to keep the public from getting too close, I decided that renting out a private venue certainly had its perks.
There are so many beautiful locations where groups big and small can assemble for a small fee in Balboa Park. I'm sure if I had decided to go this route, we would have worked out the logistics and come up with a fabulous event. I highly suggest contacting the Parks and Rec office if you're even considering this route - especially if you're planning a small but beautiful "no nonsense" wedding.