I'm one of those people who has gone through life imagining that it had it's very own soundtrack. I love love love music, and there have been very specific songs that have been incredibly important to me and the way I viewed my life at various time periods and chapters of life. I remember times where I would sit in the car (as a passenger), and stare out the window at night. My reflection would stare back at me and I would ponder the moment and the significance of the song playing. I find lyrics to songs very important and consider it a very admirable art. I especially love it when I feel like the lyrics were written just for me and how I am feeling right now. Many of these important songs came during my more angst-filled teenage years and are no longer important to me, but I love the idea of keeping track of songs that play out the story of my life.
David is a musician and has very particular tastes in music as well. We want our wedding music to be the soundtrack of our lives together. We want every song (or at least all the ones played during important moments) to be handpicked by us because it means something very real to us. It would not feel like us at all if our wedding included many of the popular songs of today that are definitely not our taste. Also, many of our important songs are less well-known and less likely to be a song that a DJ might carry.
This is why we have decided to host an iPod wedding. We figure if we're going to be so specific and tell someone what to play all night anyway, we might as well make the playlist ourselves and ask a friend to hit play.
David's band has a pretty good sound system that we plan on bringing to set up, and among my family, we have three apple laptops and at least five ipods. I plan on uploading our playlists to both my ipod and my macbook (and maybe my sisters' macbooks and ipods as well) and bringing them all to the wedding - what? You can never be too prepared. We have a few ideas being kicked around for using one of the macbook's photobooth program as a photobooth for the wedding, but if
our photographer
can set up a photobooth like he's mentioned then even better! We also have a few people in mind to ask to be emcee for the night and to be in charge of watching over the ipod and hitting play when necessary.
The best part about our ipod wedding, I think, was actually one of David's ideas. We were discussing how many guests like to make requests to the DJ during a wedding, and how some of the requested songs are often the ones that keep the dancing strong. Having a set playlist does not really allow requests, but we decided to include guest requests anyway.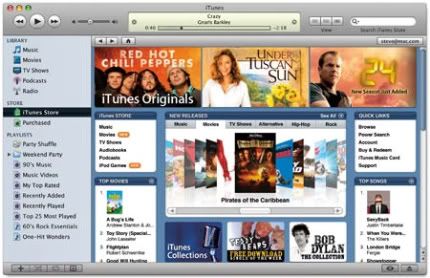 source.
The itunes store has almost every song imaginable available for download - with it, we can take more requests than a DJ with a bundle of CDs ever could!
If we had internet access at our venue, the original plan was to play all our music off of my macbook through itunes. If anyone wanted to make a request, we could actually download the song right then and there and have it ready to play. Voila! Instant access to any song our guests desire. We had planned on setting a limit to our itunes account for a set amount of downloaded songs, and calling it our DJ budget. My fiance is a genius. If you're having an ipod/itunes wedding and have internet access, please use this idea!
Unfortunately, I don't think we'll have internet access at the lodge, so I'm moving to plan B. Instead of taking requests at the wedding, I hope to gather a list of requested songs in advance either via our invitations/rsvps or our wedding website. I'm thinking about including a question on one of these options saying
"What's your favorite love song? favorite dance song?"
(Anyone have suggestions on a better way of wording that?) Then, if I get any commonly repeated songs or ones that really stand out, I will be sure to download them in advance and include them in our playlists. Guest requests - done.
Is the soundtrack to your wedding important to you? How are you combining your personally important songs and ones that might get your guests excited?
To come - some of our song picks and why they're important to us.