While most of the wedding planning tends to focus on the reception (I mean, there are way more details involved there), I want our ceremony to be the focus of our wedding. The ceremony is the actual
wedding
after all. None of the party elements of the reception matter a stitch without the legally binding vows and spiritual elements that happen during the ceremony.
That being said, the ceremony decor has been on my mind lately. I want our ceremony to have just as much (if not more) or a "wow" factor as all of the ideas and inspiration I'm incorporating into our reception. I want our guests to notice and remember our ceremony, not just the party that follows.
The first way to catch you guests' attention with ceremony decor is by creating a unique seating situation. I saw this wedding on
design*sponge
set-up with church pews and pillows outside and just about fell over out of sheer love for it.

source. - check out this entire post - the wedding is amazing!
I'm pretty sure there is no reasonable way to aquire and haul a bunch of church pews out to our venue, but I so wish we could do this.
Another, more reasonable but equally adorable, option for creative seating is hay bales.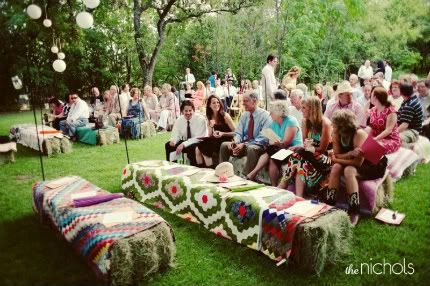 source.
I love how the bales with antique quilts make this ceremony so home-grown and rustic. Hay would be a great nod to my childhood on a hay farm with horses, too. Unfortunately, we're already paying our venue to rent white wedding chairs for the ceremony.
The most creative way I've seen the traditional white chairs used to make a ceremony unique is by creating a round seating area:
source.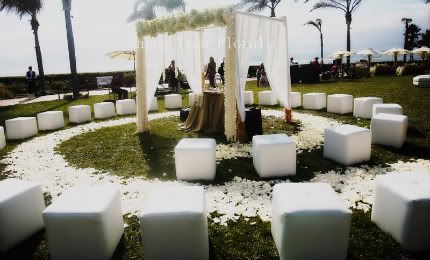 source.
I'm not quite sure how this one would work, but isn't it pretty?
This set-up seems to allow a better view to the guests and certainly looks fresh and fun. I will have to get another look at our venue to see if this is even possible, but I'm pretty sure there's one main focal point or direction and it may not work to have guests looking in from all different angles.
I really, truly want to look further into the hay bale idea and other possible options, but chances are we'll end up with a traditional aisle/chair set-up. Would you consider an alternative seating plan for your ceremony? What are you doing to make your guests notice the decor and set-up of your ceremony?
Stay tuned as I explore other great ways to make the ceremony decor stand out and opportunities to make our ceremony special.