I absolutely love the ides of stringing photos on a clothesline.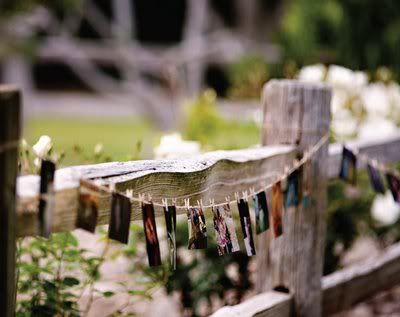 Style me Pretty.
David and I aren't huge on the wedding slideshow idea, - plus, the lodge doesn't have any set-up that would allow it - but we really want to display photos of us throughout our childhood, relationship, etc. It would also be great to showcase photos of friends and family who attend the wedding. I still have the
Photo Album
that will later be filled with guestbook postcards to fill for it's time at the wedding. My plan was to put engagement photos in there, however, so we will still have tons of other photos to display on a line!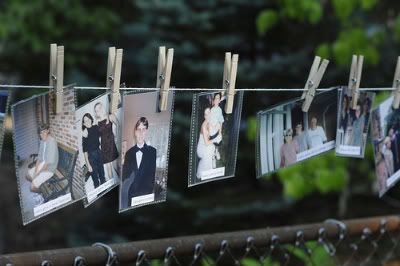 source.
Wellspring Photo.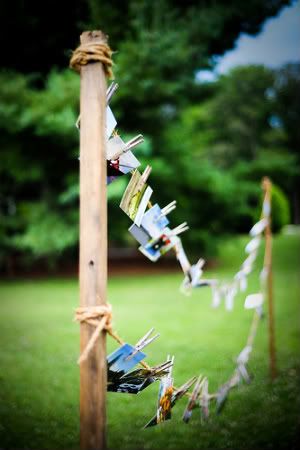 source.
The photo above is actually a line of postcards that served as escort cards. I also love it when people clothespin their escort cards.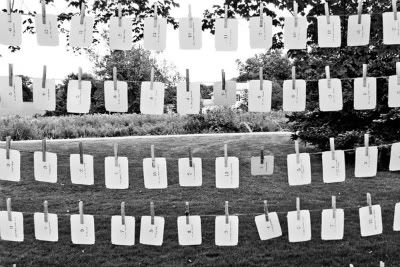 Once Wed.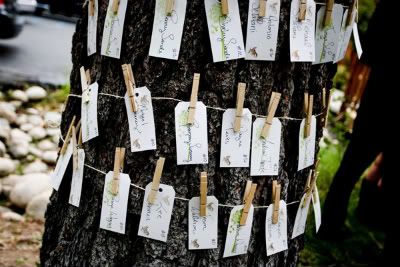 Weddingbee!
I love how Mrs. Espresso wrapped the clothesine around a tree!
I would love to include this escort card idea, too. I'm playing around with the idea of doing both - possibly having the escort cards spread out among the photos (perhaps even having photos of certain guests close to their own card?) - but, I don't have a solid plan yet. I need to wade through lakes and lakes of escort card inspiration before I'll be ready to commit. I am, however, starting to think about collecting clothespins because the photo line will happen - with escort cards or not.
Do you like the photo lines better hanging freely or up against a wall/fence/tree? Would a mixture of photos and ecsort cards seem too cluttered or confusing? Is it possible to have
too many
photos on display at your own wedding?