Awhile back, I had a Borders gift card, and decided to treat myself to this:
source.
Today, I had the day off work, and decided I should get some wedding crafting done. I thought about working on our save the dates, but I'm hunting for the perfect paper. I brought out our centerpiece supplies, but I figured there wasn't much to do without cutting more bottles and getting more supplies (like the baby's breath...) So, I turned to Martha. I had tons of pearls left over from my
DIY clutch flower
, and I used to make beaded necklaces all the time so I made this:
The necklaces I used to make consisted of tons of colorful beads strung on fishing wire. I had never done anything with intricate wire work or spacing between the beads. I thought Martha's tutorials on bead work were a great start and even greater way to use some of my pearls.
I roughly followed Martha's instructions for "how to make a center drilled pendant" and "how to link beads", but I mostly just winged it.
I used these supplies: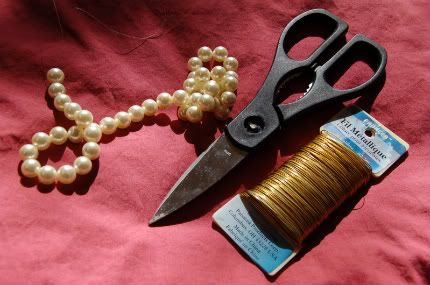 The book says to use pliers to twist the wire, but I just used my fingers because I'm too impatient to have less control. I do see why the pliers are important, however, because my fingers are hurting pretty badly.
I threaded a bead onto a small piece of wire and twisted the end around itself to make a loop at the end. For the most part, I tried to make sure that there were 2-3 twists of wire between each bead and the loop.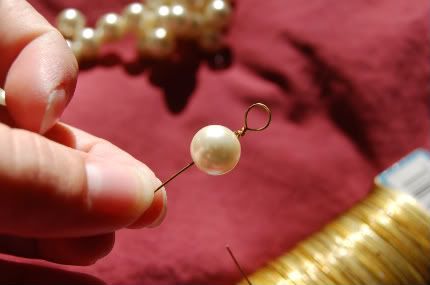 Then, I stuck another piece of beaded wire through the loop and twisted its end as well. Each connecting bead had a loop - connected to the next bead with a loop - on each end.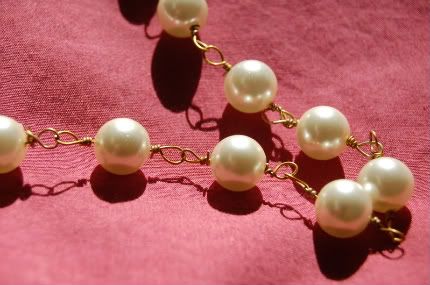 You can probably tell in the first picture that I haven't added a clasp. I need to search my old beading supplies and possibly make another trip to Michaels, but otherwise I'm finished. I plan on trying the necklace out with my wedding dress, but I think my ensemble will be too busy for much of a necklace, and I already have plans for a different necklace to act as my "something old". My next, better plan for this necklace is to gift it to my mother to wear on my wedding day. I'm thinking about making a matching bracelet for myself to wear.
What do you think? Not bad for a wire jewelry newbie, right?