Well folks, I was wrong. The lovely bridesmaid dress that my ladies picked has not
been discontinued
. After yesterday's post, I decided to look at
Eden Bridals'
site once more - not to look for the old dress, which I knew had been removed from the site, but to look at possible choices for new dresses. I already knew they had a burgundy and gold color option that I loved, so it would be a good line to give the girls options to mix and match with. I liked a few of the dresses, but wanted to see them in person, so I looked up some shop locations that carry the line. It was on
the website of the closest location to me
that I found the dress. I knew it was possible that the website hadn't been updated in awhile and that the dress would still be discontinued, but I decided to give it a try anyway. The lady in the shop said that yes, the website was old and yes, the dress was probably discontinued; but when I gave her the style number listed on their website, she looked it up and said, "Oh, we have this dress, I sold some of it in the last month."
Hallelujah! Oh happy day! The dress that had been previously declared a perfect match for my dress and that my bridesmaids loved is available!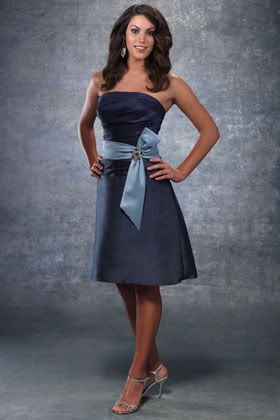 source - dress no longer on site (but still available!).
But now I'm torn. I was really liking the mismatched idea, and it could have potentially been a less expensive option for my girls. But, I really do love this dress. Should I include it as an option but still go the mismatched route? Should I go all the way and have them all buy this dress? Should I scrap this dress altogether and go with a completely different dress (or dresses)? What do you think?