Today's post is pretty late as I haven't been in blogging mode today. Why? I have
Cat Scratch Fever
. No joke, I came out of a hour of chasing my sisters' cat around (trying to save her from termite fumigation) with really infected vampire bites, a finger so swollen I can't wear my engagement ring, and fatigue/headache/etc. Anyway, I'm on antibiotics for the infection now, so hopefully I'll start feeling better soon.
I've been thinking a lot about how to dress my bridesmaids.
Awhile back, my MOH S and Bridesmaid B came up to visit me at school and we went shopping for dresses.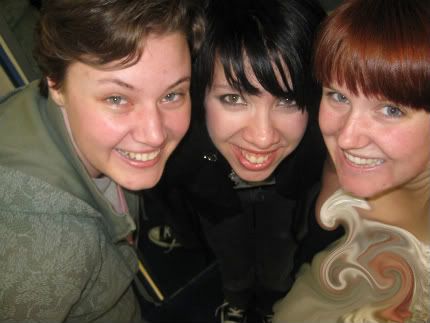 personal photo. Here we are at the dress shop - photo distorted to avoid an unwanted sneak peek of my dress (yeah, I realize it looks really strange)
We decided on this in burgundy with a gold sash: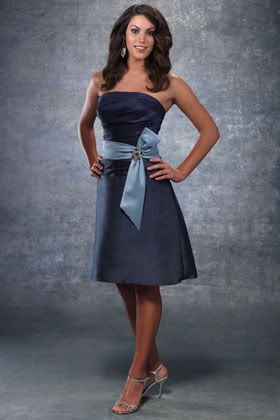 source - dress no longer available.
It was perfect, and the girls loved it so much they told me that they would be tempted to buy it even if I didn't choose it as their dress. Unfortunately, since then the dress has been discontinued. There is no hope of finding the dresses online or anything because we have such specific color requirements and were even going to have the fabric changed.
So, the remaining options for bridesmaid dresses are:
[1] Go dress shopping with the girls again and find a new dress, or
[2] pick a color/length/etc and tell the girls to pick whatever they want.
I am planning on going dress shopping with my ladies again when they're in town over Thanksgiving, but honestly, I am really liking the mismatched bridesmaids look.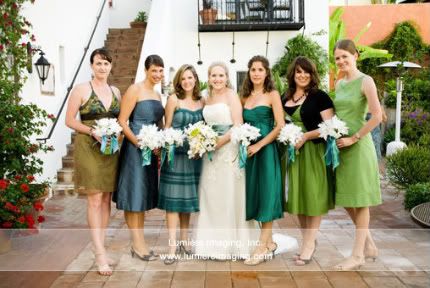 source.
source.
These are both examples of very mismatched bridesmaid groups, and the second one is even in the general color scheme I'm looking for. I would love to go for something like this - it would be so simple, but I think I'm a little more of a perfectionist than that. I'm worried that since there are so many shades of reds/burgundy/maroon that the dresses might clash with one another. I'm thinking that I will probably either choose a specific line of dresses and my color of choice and have the girls pick any dress from that line, or I will get paint swatches or something in the colors I love and have them find a dress in that color family.
This picture from
Style Me Pretty
restored my faith in the possibility of finding dresses from all different places that match and look lovely together.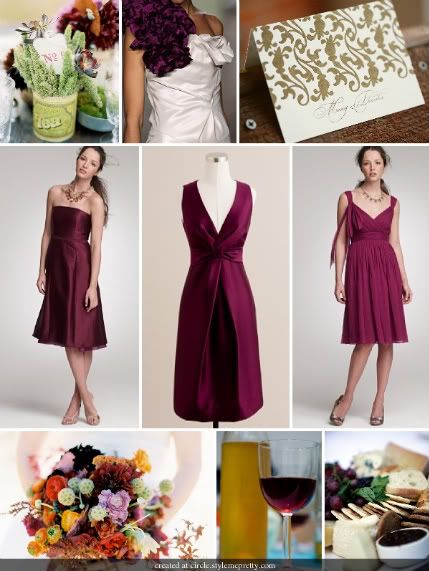 source.
I would have gone with all different color choices if we were having our
"other wedding"
, but I really have a specific shade pictured to go with my dress, so we'll see about getting them to match. Wish us luck!
Do your bridesmaids dresses match, or are you taking the mismatched route? Do you have at least one feature (color, cut, style, length, etc?) that ties them all together?