The internet is a wonderful place. After being quite at a loss for direction with our save the dates, a simple search for "map save the date" brought me gold.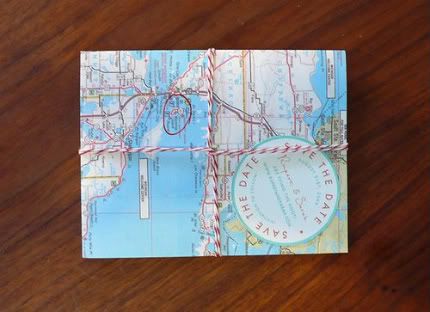 source.
Nole from
Oh So Beautiful Paper
showcased these beautiful save the dates. The map pinpoints the wedding location - right along the lines with what I have been dreaming of. I also love the little calendar showing the date and the lovely woodgrain paper. This is less rustic or antique looking than what I have in mind, but oh I love them so.
searching for something more vintage, I came across these:
source.
Meg from
A Practical Wedding
created these with her husband for their wedding. These ones are great because they highlight areas in their homeland (the Bay Area) that are significant to them. The antique look to the maps makes me swoon, too.
Now, if you've been following my general style and technique, you probably know what comes next - I'm going to find a way to make a combination of these lovely inspiration pieces. I have some pretty great antique map wrapping paper that I've been planning on using, but I would really love to find a way to get a map of the area of our wedding/home like the beauties above. I've finally started playing around with the look and format, but can't do much until I figure out how to get out own antique map of southern California or give in and use the wrapping paper.
I plan on using the font
Ginga
which I downloaded from
dafont.com
.

source.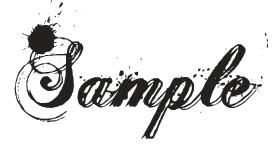 source.
I think the Ginga is both antique-y and respectful while being unexpected and playful. I love how the blots make it look like an old ink pen wrote the text. I can imagine writing like this being included on old style maps anyway, so I think it will look great! It will definitely be used for our save the dates (and possibly as a repeated look around our wedding), but I'm searching for something simpler to use with it so the words aren't too overpowering. Any suggestions?