During my trip back up to the bay area, one of my friends dragged me (okay, it didn't take much coercion) into the
Agent Provocateur
store in San Francisco.
That store has some really out there way not my kind of thing styles, but they also have some stunning and lovely things that made me tempted to spend way too much money than I ever should on lingerie.
The rest of this post is not suitable for work, fiances, or anyone who might be offended by models in barely there lingerie.
I tried on a few control slips and corsets thinking that I might be able to justify a purchase if it could serve as both control undergarments for under my dress and my wedding night lingerie.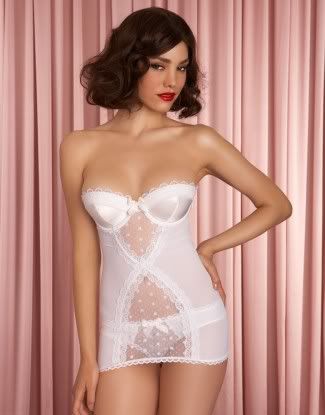 The
Kirsten control slip
was absolutely beautiful. It didn't "control" as much as it just smoothed (really, my knock-off spanx do the trick better), but the bra held better than I expected and it was just so lovely. Unfortunately, the zipper got stuck a few inches down at a seam and wouldn't zip all the way. We tried four different slips in three different sizes and finally the sales girl convinced me that it wasn't me - there is a flaw in the design.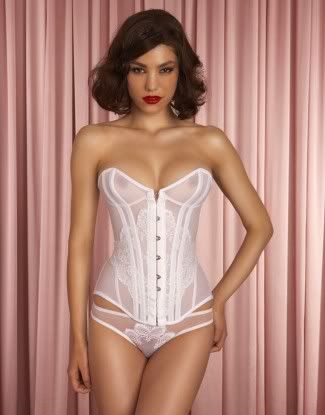 The
Kate corset
is probably the single most amazing piece of clothing I have ever worn. I thought I had an hourglass shape on my own, but this corset made my waist teeny tiny and my figure fantastic - I wish I could look like that all the time. It was really good at not making awkward bumps and rolls where the corset ended and the rest of my flabby self began. At $530, I need to quickly kiss any dreams of owning this goodbye, but my my, I loved it.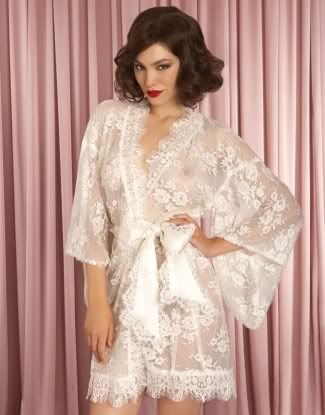 This
Matinee Kimono
costs $900, so I barely touched it, but it was by far one of the most beautiful things in the store. I'm not huge on robes, but would definitely go for something like this. I particularly love the satin sash with lacy edges. But again, $900 is way too much to even dream about spending on a bathrobe - no matter how lovely.
The rest of their bridal collection was nice, but I didn't try anything else on. The first thing that caught my eye, and a favorite that I tried on, however, was the
Meteorite bra
and
brief
.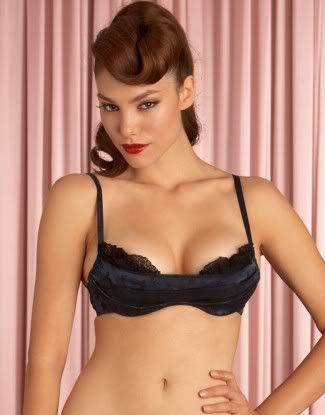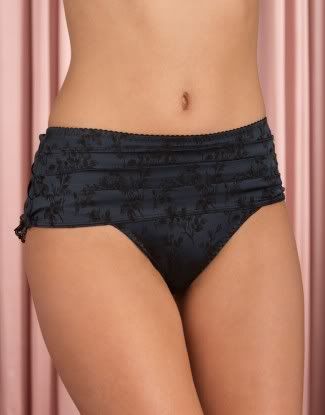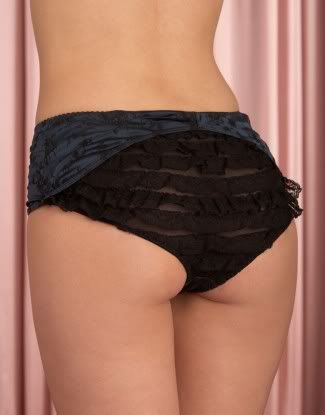 So lovely. These are from their newest collection and looked much better on me than I expected. They were sexy, beautiful, and cute all at the same time. If only the ridiculous prices looked less ridiculous to my bank account...
The friend that convinced me to go in and try all of this on has also vowed that she would get some other friends to pitch in and gift me one of these items for my bridal shower. Honestly, I think she would have to get a lot more than a few friends to pitch in to even begin to afford any of these on their college student budgets, but a girl can dream, right? They started a "wish list" for me and put the Meteorite items and the Kate corset and my sizes into their system. I'll probably never see those lovelies again, but it was really fun trying them on.
Do any of you lovely folks have any suggestions for good quality, beautiful lingerie for less than these insane prices?
* note: some of these images can be considered to be violating the photobucket terms of use policy. If the photos dissappear, you can always click the links to their page on AP's site.