Our save the dates are really coming along - I promise I will share them soon. Until then, I'd like to share some more map items I have collected to further our theme.
I've already shared our
postcard guestbook album
, but in case you forgot, here it is in all it's antique map glory:
source.
Also, as you probably noticed on our
save the date sneak peek
, vintage globes will have their place in our wedding as well. I spend a lot of time scouring map stores, ebay, and antique shops looking for a nice antique globe. It seemed like I was going to have to spend at least $40 on anything that came close to what I wanted, until I found this: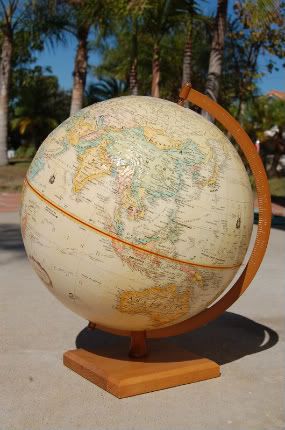 personal photo.
My mom and I found it one afternoon when she was visiting me in the Bay Area. We decided to drive around Marin County, and my lovely was just sitting outside an antique store waiting for me. And get this, I got it for only
twelve
dollars! It's not quite as elegant as some, but it's definitely old fashioned, and will fit our rustic theme just fine. I plan on setting it on our guestbook table or some other decorative display.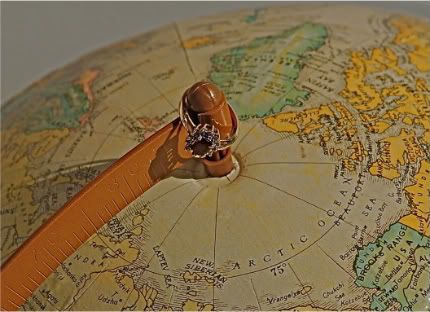 personal photo. Gratuitous ring shot on my globe.
Finally, I found this among some of my parents' things when I was getting ready to host a garage sale this summer: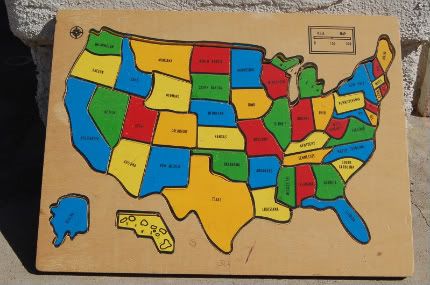 personal photo.
This US map puzzle was mine when I was a kid, and I have reclaimed it. I plan on using it on a kids' table to bring our theme to the little ones as well.
Of course, the map/globe theme will also be used throughout our paper goods and possibly in our centerpieces in some way. What other ways can I incorporate this theme? What can I do to make the theme clear and lovely without being overkill?
If you have a theme for your wedding, how are you incorporating it?