Thanks everyone for the birthday and get well wishes. I am feeling much better now, and so very relieved. (Really, I have never been more excited to feel hungry than I did upon waking this morning!) Anyway, like I said, I had a pretty spectacular birthday.
The day started with a surprise celebration at Chick-fil-A! David works there, and he had it all set up with his co-workers to provide balloons and a birthday card at our table. I was gifted a free breakfast platter and coupons for free food later. My dear friend and bridesmaid, J, surprised me by joining us, and we had a beautiful breakfast. Then, we headed up to Disneyland.
Now, I have been to Disneyland
hundreds
of times and many of them have been close to free since I used my annual passes to death over the years, but there really is something special about getting in totally free. I handed over my "golden ticket" certificate from
disneyland's birthday site
and they handed me these: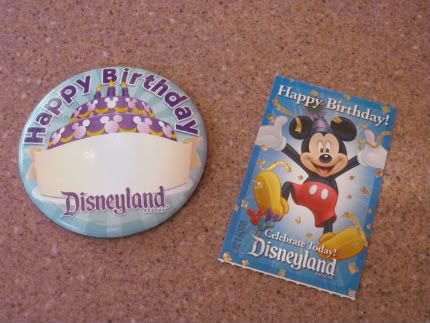 source.
A special (and completely free!) one day, one park admission ticket to Disneyland, and of course, a birthday pin. Since this birthday "Celebrate Today!" thing has been the theme of the year at Disney, the cast members really make an effort to make the people wearing these pins feel special. I must have been told "Happy Birthday" more times on Saturday than the rest of my life combined, a dancer in the parade threw confetti at me, and I somehow ended up with even more free stuff just because it was my birthday!
Since it was also Halloween, we got to enjoy many kids in costume, a new Halloween themed fireworks show, and Space Mountain with a makeover - Ghost Galaxy. There were warnings all throughout the line that the Halloween version of the already fast and dark ride would be too scary for children, and it did not disappoint.
source.
this is actually a picture from Hong Kong Disneyland, but it looks the same as the Anaheim makeover.
If you're lucky enough to be close to Disneyland and your birthday has not yet occurred this year, I highly suggest you take advantage of your free ticket!
Since I unfortunately forgot my camera on Saturday (BAD LAURA!), I have decided to share a photo of David and myself from my birthday/Halloween last year.

personal photo. I was Rainbow Brite and he wore a squid costume that his younger brother made.
My birthday gift to myself last year was to fly David up to Berkeley to spend my birthday with me, and we had a pretty awesome costume party at my college apartment thrown by one of my lovely roommates.
And as a bonus, here are the spider cupcakes I made for the party last year: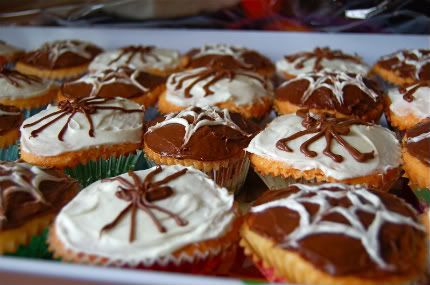 personal photo.
I hope you all had as great a Halloween as I did. It was great to take a break from work, wedding planning, and the real world for a day or two. It was the getting sick and forcing the break to last a few more uncomfortable days that was the problem...