Part One.
The second time my two friends and I made joint dress appointments, we went to two different shops - and had two very different experiences. The first is not worth going into detail about. Let's just say the sales lady lost our appointment, insulted us, did not know the dresses, and pretty much ushered us out of her store and leave it at that.
The next shop,
Flair
in San Francisco was a much better experience.
The second we walked in the door, the smiling sales lady greeted us with handshakes and introductions. She apologized for not booking us for a longer appointment since we all wanted to try on dresses, and took us one at a time to get an idea of our style. She explained each dress that she showed us with great detail and praised each one's different aspects. Throughout the hour, we were able to enjoy fun conversation with her as well as take time on each dress for discussion and consideration of it. The atmosphere was very relaxed, not stuffy, but they still had some very beautiful, high quality dresses. She was even the one to suggest we take pictures and wrote little cards with all the information of the dresses that we had each liked most for us as we left. The only downside to this store and experience was that they only carried about 20 different dresses at most. I guess this is because Flair is predominantly a bridesmaid dress shop, but we didn't know that upon booking our appointment.
From this point forward, I will be showing photos of myself wearing wedding dresses. If you are engaged to me, you probably do not want to proceed.
I must now admit that when I first saw the advertisements for
Kirste Kelly's line for Disney
, I was not a fan. They seemed to look cheap, didn't fit the models, and I thought they were pretty gimmicky. However, after seeing (and wearing!) the dresses myself, I must say that they are a much better quality than I gave them credit for, and while they don't seem to hang right on the models and just don't look good, I admit they looked pretty darn great on us (well, mostly my friend Nicole).

personal photos. Please ignore the strange posture and black bra. Thanks.
This dress is the "platinum gown" from Kirstie Kelly's line. It is the one in basically every ad. It is a Cinderella dress, style
C2826
from Spring 2008. This dress was so
heavy
. Even after sufficient warning, I was still shocked at the weight. It was just so. much. dress. but oh so beautiful...
Looking back, I don't like how it looks on me at all, but it was really fun to try on at the time.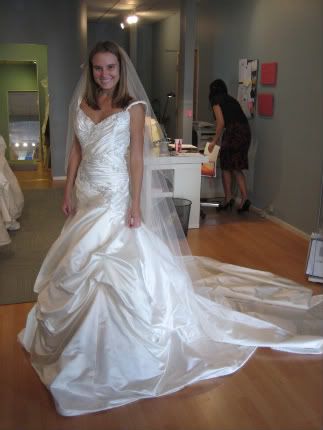 personal photo. I think it looked much better on Nicole.
Next, I tried on a dress by
Coren Moore
, which I loved in the shop.
It is called
"Charlotte"
and had a beautiful mermaid cut with lovely lace inserts at the bottom. Looking back at pictures, I see why Liz and Nicole weren't thrilled about it. But, let me tell you, in person this dress made me look super tall and made my booty look fabulous.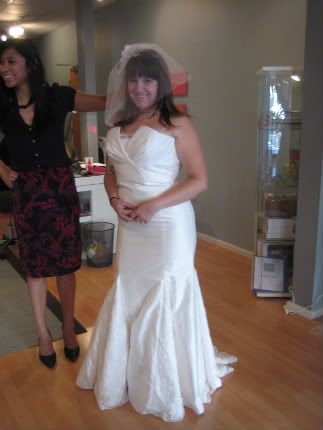 personal photo.
I honestly don't know what I was thinking - I think this dress looks awful on me now! Even if this dress looked as good to me now as it did in the store, I would have to pass on it. The dress itself costs $1500, but the lace pleats cost an additional $800, making the dress way over budget. No matter how high my budget, I don't think I can ever justify spending $800 just on
lace
.
So, this trip didn't end up being remotely successful, but it sure was fun. Did you have a lot of fun, but not successful shopping trips in your dress journey, or did you get right down to business and find your dress quickly? We three wanted to enjoy our chance as brides and make the most of it, so we made a lot of trips. :)