Part One.
Part Two.
Part Three.
I was supposed to be a bridesmaid this past summer for one of my college roommates. Unfortunately, the wedding never happened, but in the original planning stages, I visited her local bridal salon in San Jose with my friend on a few occasions - to get her dress, to pick out my bridesmaid dress, and finally, to try on dresses myself.
Meet, Elegant Lace, my new love:
source
(This post has been copied from my Livejournal)
My experience at Elegant Lace couldn't have been better. Even though I was late, (oops! There was rain and tons of traffic...) the ladies in the shop were ready for me and excited to see me. Synthia, my personal sales lady, led me around the store, telling me where to find each silhouette among their hundreds (thousands? there were SO MANY) of gowns. She then gave me a bunch of shower curtain rings and told me to tag the dresses I was most interested in. This system worked so well for me; I was able to see all the dresses and pick them out for myself without being asked to actually drag them around myself. Synthia then let me try on all of my chosen dresses and, after discovering my style, brought me a few of her own picks.
Sorry, I've included a lot of cuts lately, but this one's for real - David, DO NOT click this link.
It was pretty easy to cut out some of the dresses, but after narrowing it down to three, I just. couldn't. decide.
The three dresses, all of which I adore in their own way, were the following: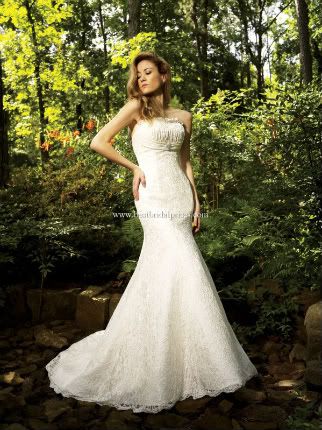 source
This
Allure
gown, style 8609, was breathtaking and so unique.
I absolutely loved the full lace, the cute ruffle lining the sweetheart neckline, and the buttons in the back. Oh! Buttons and Lace, how I love thee. Wearing it, I instantly imagined myself walking down the aisle. Synthia even brought out a birdcage veil for me to try on with it. I thought that the embellishment on the front was too "blingy" and didn't fit well with the dress, but Synthia told me it could be easily removed or even replaced with something more fitting.
Everything was perfect, until I noticed the line. The gown has a bodice with boning that ended right at my hip. The delicate lace doesn't do much for hiding things, and I could see a distinct line through the dress where the bodice ended. Once I noticed this line, it was all I could see. Synthia was instantly on the case, and she brought in another sales lady to help find a solution. They ended up deciding that it was a flaw in the dress design (which they were shocked to discover, because they both regard Allure as a very good company), and that the only way to fix it would be to cut the boning out. Wait, what? Am I willing to pay a seamstress $150+ to cut out the main support of the dress to fix a problem the dressmakers should have fixed in the first place?
Oh my dear dear dress, I love you, but what to do?
source.
Genevive, by
Watters,
was one of the gowns that Synthia picked for me.
There was something about the Trumpet/Fit and Flare of this dress that made me look great. I loved how my butt looked in this dress, and it somehow looked more "bridal" than any other dress I've tried on. I thought that straight lines would cut me in half and make me look short, but I really loved this dress on me. The detailing looked like too much on the rack and I wouldn't have picked this dress to try on, but Synthia has a great eye. Genevive has a full skirt without compromising the fitted look that is most flattering on my body. It also has the buttons down the back, which I LOVE.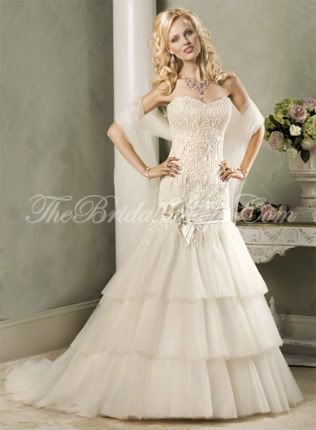 source
Finally came Keeley by
Maggie Sottero.
Oh, Maggie, you've done it again. Maggie Sottero claims to be "the best fit in the business", and this is definitely true, at least for me. The corset back makes my waist look tiny and really flaunts my hourglass shape. The lace on this dress looks exactly like what I was hoping to use as table runners. To this, Synthia said, "Well, time to change the table runners!" The dress was far more important, and this was right in the overall look I had planned for my wedding.
To further show how great Synthia is, I'll add a story: While trying on other dresses, we discussed my wedding's theme. She suddenly exclaimed, "Oh! I have the perfect dress!" and she went on to describe the layered tulle skirt of dear Keeley. "That sounds familiar... sure, I'll try it," I responded. When Synthia returned, she looked very amused and excited, it turns out that I had already tagged this dress to try on! I guess great minds think alike - and we were definitely on the same page.
This Keeley dress was so vintage and unique, and everyone there proclaimed it very "me." I really loved everything about it, but I was sad to let go of the beautiful buttons on the other dresses. Also, this dress is gold. It sure fits our wedding theme, but didn't feel very bridal. Synthia helped me think of ways to make it even more "me", and we decided I would remove the "blingy" pin on the bow, and she would use some of the accompanying tulle stole to make a rosette to go there instead. Finally, she said that she could use some of the tulle to make a ruffle along the neckline just like the Allure gown! I still wasn't sure. Was the dress too busy? Could I get married in gold?
I told Synthia to put all three dresses in my registry at the store, and made an appointment for the very next day when my MOH S and friend N could come back with me. While I thought I was still stuck on all three dresses; as I tried them on again, my choice was obvious.
I love love love my dress. I'm going to keep it secret for now, but which one do you think I chose?