Part One.
Part Two.
Part Three.
Part Four.
I left off by saying my choice between my final
three dresses
was an obvious one, and it was. One dress seemed to be the perfect combination of the elements I loved about the other two, and it was absolutely perfect for the look/theme/feel of our wedding.
So, which one did I choose?
This one, more than any others, is a no fiance zone. David, you really don't want to click further.
Maggie Sottero's
Keeley
of course!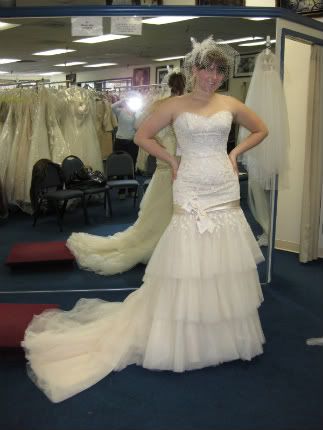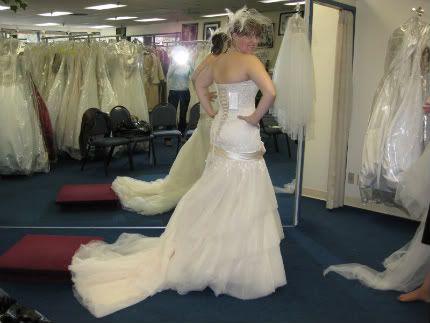 The above images are of me wearing the store's sample dress the day I placed the order. The size 8 sample had been stretched out by many brides before me, and the creases in the belly and worn look of the tulle show for it. I loved the exact fit of this sample dress - it shaped me so nicely - but, Synthia (the sales lady) convinced me to go a size bigger since my actual dress wouldn't be stretched out.
My dress came almost exactly
two months
after I ordered her. Since I was told it would take at least 5-6 months, I was surprised and unprepared when they came to announce her arrival, but I was really glad to be able to pick it up from San Jose before I graduated and moved back down to San Diego.
Here's the real thing, my very own Keeley, the actual dress I get to wear on my wedding day: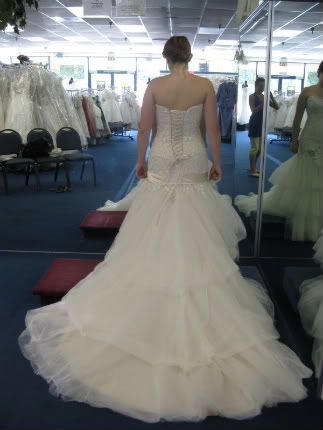 It doesn't shape me into quite as much of a "WOW!" hourglass form as the sample size did, but the skirt and belly area certainly look much better in their new and unstretched/un-tattered glory. The top doesn't fit me nearly as well as the sample - I need to have the chest area taken in - but, I got it over my hips much easier. When I was measured to order the dress, I was basically a perfect Maggie size 10 in the hips/butt and waist, but a perfect Maggie size 8 in the chest. I plan on working on finding a great padded bra, taking it in a bit, and finding a stunning
corset
to give me the hourglass shape that I had with the sample.
So now, I'm reaching out to all of ya'll - does anyone have recommendations for a more affordable source of these undergarments? What about a suggestion of when I can go for alterations? I can't spend too much money, but I really want to reach the same "WOW" feeling I got when I tried on the sample dress with my own.
Did you notice much difference between the sample dress and your actual wedding dress? Did you have a hard time fitting just right into your size?
Don't get me wrong, I love love love my dress, and I agree that my actual dress looks much better than the sample... It's just missing the more extreme effect that convinced me to buy it.
*
All photos in this post are personal photos taken by friends and family.