Four of my five bridesmaids, my mom, and I are going shopping for bridesmaid dresses on Friday. I know, going dress shopping on Black Friday seems like either a fantastic idea or a horrible one - I'll fill you in later on which it turns out to be. We're going today because it was really the only day that I could get everyone together (actually, we had originally picked the day when all five bridesmaids could be there, unfortunately, one still can't make it.)
Anyway, in the spirit of our bridesmaid outing, I have decided to reach into the depths of my previous crafts and show you how I originally asked (some of) my bridesmaids to be in our wedding party.
I wanted to make cute little cards to give each girl when I asked them like I have seen so many bees do, but one afternoon, I had an opportunity to see some of the girls and had not made anything yet. Unwilling to give up my dream, I ran down to Michaels, got a few supplies, and whipped these out in a matter of minutes.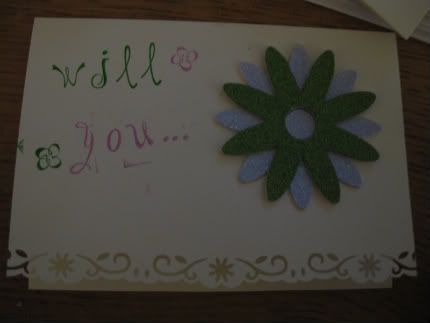 I just used a cute edge punch to make the embossed design on the bottom, used individual letter rubber stamps for the writing, and glued the flower cut-outs on. Sadly, the stamp set I bought was lacking a question mark.
I'm not thrilled with how these turned out, but the girls liked them. Unfortunately, I only actually gave these cards to two of my girls. In my defense, my mom had already stolen my thunder by telling my sisters they would be bridesmaids, and the fifth girl was added to our wedding party a little later, and David and I personally asked her together.
I did put all these supplies to good use one more time, though. I made this card for a wedding I attended last year, and I actually like it a lot better than the bridesmaid cards.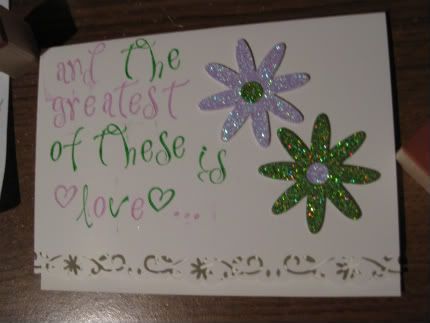 Did you do something special to ask your bridesmaids to join your wedding, or did your lofty dreams wilt a bit like mine?