So,
in my last post
, we had discovered that ordering our perfect bridesmaid dress would be extremely complicated at best, and we were left at square one at a store with extremely helpful, patient, and kind sales ladies. We couldn't get the dress we wanted, but I also didn't want to just leave after these ladies had been so wonderful by searching the entire store, website, calling the company, etc. to find the dress for us.
Since we couldn't have the perfect dress, - the dress I've taken to calling the "magical mystery dress" as my last post implies - we decided to do the next best thing. We went with the mix and match idea!
I thought that letting the girls pick their own dresses would be the easy route, but I was wrong. Since reds/burgundys are very difficult to match and I was afraid of the colors clashing, we had to stick with one designer. But, the girls had to try on dresses from multiple designers to decide which one we should actually go with. Getting four very different girls to pull basically every dress off the rack and find things they like, agree on a designer, and find something they like by that designer is hard, yo. With that being said, we did finally decide on Alfred Angelo (simply because they had the most options, by far), and came up with four different dresses that we could order in the same color that suited each girl. It got so crazy and stressful at times that our sales lady, Erika, ended up hugging me as we left and went to get me water and things throughout the process. She was such a sweetheart, and I am so glad we ended up coming to a decision and buying something from her store.
So, without further ado: here are (most of) my maids and their dresses!
personal photo
MOH S and BM J found dresses pretty quickly that flattered them wonderfully. The one on J is way too big, but I know when it fits her it will be great, and I fell head over heels for how flattering the one on S was in person.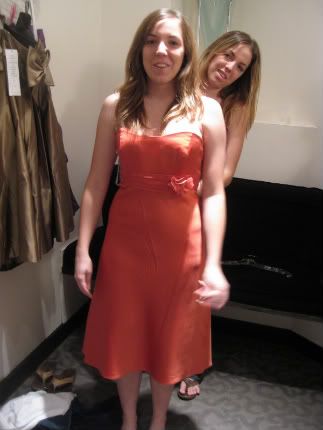 personal photo
Two-headed twin BM S chose this cute dress. (I have better pictures of her in it, but I couldn't resist the two-headed joke...) Unfortunately, I don't have a picture of her second head - er, her twin, BM L, in her dress.
Here are their dresses from Alfred Angelo's site and in our color: (*note: the website's color coordinator is WAY off - these dresses are shown in "wine", but they look NOTHING like the wine color swatch we were shown)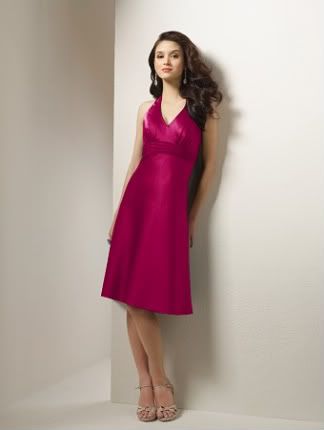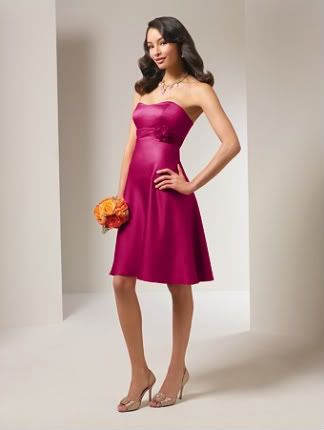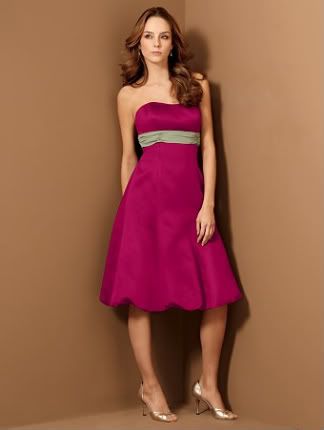 source.
My fifth and final bridesmaid has yet to choose a dress, but she will be down here in about two weeks and we will go pick one then. I'm so excited to have most of the bridesmaid decision-making done.
The only concern brought up was that these dresses don't have the same vintage look and feel as our "magical mystery dress" or the rest of the wedding. I think with the right accessories we can fix that, though.
So, what do you think? Did I do the right thing by letting the girls pick different dresses, or should I have searched harder to get the original "magical mystery dress"? Will your bridesmaids match or mis-match? Do my girls' picks even work with my dress and wedding theme?