Just a few days ago, David and I started taking our honeymoon thoughts and plans much more seriously. I guess I finally realized that in order to go anywhere that takes advance planning, we would have to have it figured out, like, yesterday.
In a perfect world where we had all the money we could dream of, we would honeymoon in Europe. More specifically, we would honeymoon in Ireland, Italy (Cinque Terre!), and Greece.
source.
We would stay in Ireland because we visited some friends in Northern Ireland last January and loved it. David felt more connected to the place and the people than anywhere else, and I would love to be able to see it in the summer. Plus, the word "honeymoon" originated in Ireland, so the idea of going there on our honeymoon makes me smile.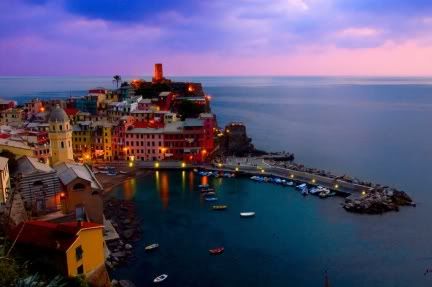 source.
I went to Cinque Terre for a one day hike while I visited Italy a few summers ago. The very moment I saw the town of Vernazza, I knew I wanted to go back there with David, and thought our honeymoon would be a great time. As soon as I told him about Vernazza and showed him pictures, David mentioned wanting to honeymoon there without knowing I had the same thought.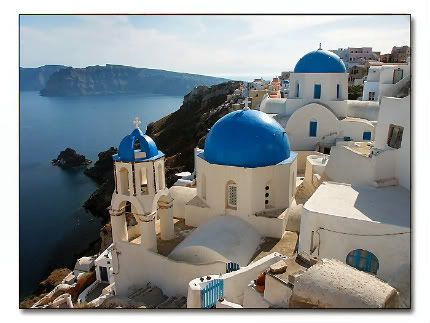 source.
Greece, to me, is somewhere that I dream of going but don't really feel I will ever justify doing so. Once, David promised me that we would go there together someday, so I figured it would be a perfect addition to our dream honeymoon.
Unfortunately, to go to these places and get the quality of vacation I'm hoping for our honeymoon, we would have to stay a very long time and spend a lot of money. There would be so much to do and take advantage of while traveling Europe that we would be too busy to fit it into a reasonable amount of time and still feel relaxed, and I'm sure that juggling transportation, multiple hotels, and exchange rates could end up costing us. big time.
When thinking more realistically - on a poor people's budget - we came up with a few options as well. We decided we would like to vacation in Maine, experience California's lovely bed and breakfasts, or take a cruise from a nearby port.
source.
I would really like to visit Maine someday, but I've decided that it just doesn't feel like a honeymoon to me. Plus, I have so many friends spread across the country that I would feel bad flying somewhere without a visit or two. Also, if we're going to spend money on airfare, we might as well go somewhere more exotic, right?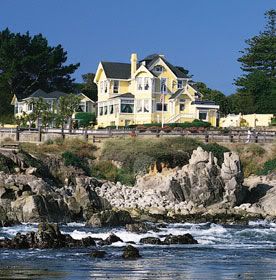 source.
The bed and breakfast idea is still a very ideal and charming one to me, but if we can, I would rather leave our own state. Again, this is definitely something I want to do someday, but not necessarily for our honeymoon.
source.
Going on a cruise is a great option because it provides an all-inclusive vacation to multiple destinations without any work. We're fortunate enough to live near a few ports, so we wouldn't have to include any travel costs. However, I have been on cruises to both Alaska and Mexico, so no affordable cruise leaving from California would feel very special or new to me. This was our prime option for quite awhile, but after I thought about how I get sea sick, have already been on the potential cruises, and we don't want to follow a strict port/ship schedule, we have pretty much decided against it.
So, now that we have vetoed our prime options, we started from square one. When David and I compiled our most important desires for our honeymoon, we got this list:
[1] We don't have to worry about money while we're there - all-inclusive would be best.
[2] We don't have to stick to someone's schedule or itinerary.
[3] We can relax all we want, but still have fun things to do.
[4] I would really like to go on a zip line / ropes course of some sort. (Not totally necessary, but it would be fun... haha)
Where can we go that would fit this criteria and not destroy our wallets? Any suggestions?
I've been doing a lot of research, but haven't come up with the perfect answer yet.
Where are you going on your honeymoon? How did you decide?