I've read a lot of hype about the beautiful Laduree macarons from Paris. In case any of you are as confused as I was, these are almond based cookies based on (but not to be confused with) their coconut and chocolate counterparts - the macaroon. Macarons are quickly becoming one of the next wedding trends as many brides are giving them as favors or even creating a French or Marie Antoinette theme often centered around these lovelies.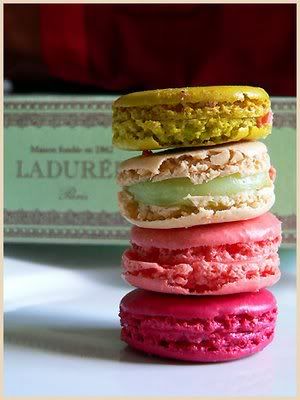 source.
They sure are cute and delicate looking, but until I tasted a similar macaron for myself, I didn't quite understand the hype. While I was visiting the bay area a few weeks back, I discovered
Miette
in the San Francisco ferry building. A friend had suggested the macarons there and bought one for everyone in the group. I got a hazelnut one, and oh my, it was delicious.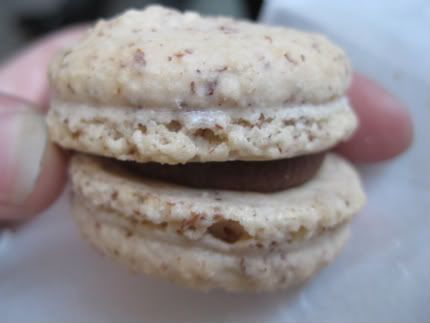 personal photo.
Miette's Macarons weren't quite as perfectly dainty and lovely (read: colorful!) as the Laduree ones, but they were still adorable and amazingly tasty. I don't know how they make them so wonderfully crispy on the outside while staying soft and chewy on the inside, but I'm starting to understand why people pay tons of money for such small desserts.
The display and general set-up of Miette was super cute as well.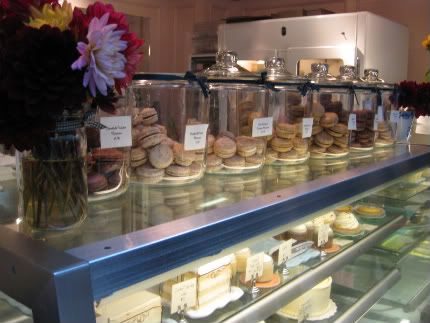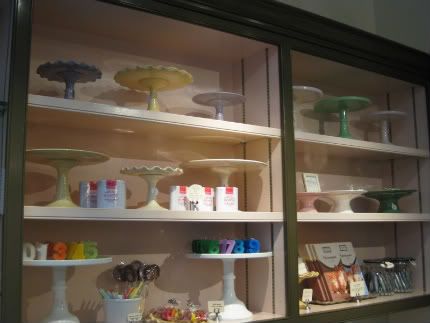 personal photos.
Having the flavors lined up in jars made for a great display - I'm thinking it would be a lovely alternative to a candy buffet. And, oh - I wanted to steal all of those adorable cake stands for our
cake buffet
.
So, moral of the story: don't knock a wedding trend until you've tried it, and if you're ever in San Francisco, stop by Miette - you won't regret it. (Miette was also the wonderful vendor that supplied
Mrs. Peep Toe's
wedding cupcakes!)
Have you fallen for any wedding trends that you had previously doubted?