Parts
one
,
two
,
three
, and
four
.
Remember my centerpiece inspiration?...
personal photo from sources A, B (unknown Weddingbee reader), and C.
Well, here's my finished product: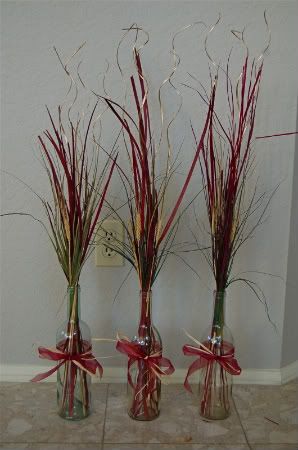 personal photo.
You can see how it's inspired by the three above right? Honestly, I kinda feel like it's just a bunch of junk shoved into a wine bottle (which, let's be honest - that's exactly what they are), but they're pretty, right? You see how the left one is so much shorter than the middle? Well, I bought two bundles of that burgundy grassy stuff and one came in attached bunches that stood tall together (the middle one), and the other came with individual pieces that I had to stick in one by one (the left).
Here are some more views:
personal photos.
I am really pretty happy with how they turned out, but I'm worried about pieces breaking and stems drooping by the time May rolls around and we have to transport them - maybe I got a little ahead of myself making them now. I also kinda wish I had used the darker, colored wine bottles for these, but I plan on cutting those and using them as candle holders around the tablescape - I think the candle shining through the yellows, browns, and greens of the glass will look great.
I was able to make ten centerpieces with the supplies I bought, and I need at least two more. I guess when I go get more supplies, I can make sure I get the good kind of burgundy stuff, and maybe I'll go back and fix some of the weaker ones. Also, my sister tied the bows and she's not happy with them, so we may have to go back and fix those, too.
All in all, it's nice to scratch this daunting task off my list, and I think they're certainly rustic enough and will still make for a pretty tablescape, no?