On Saturday night, I threw my annual Christmas party. Over the years, this party has evolved from an excuse to celebrate the holidays with my church choir group, a large gathering with a gift exchange, a formal four course dinner party, and this year, it was a dessert potluck.
Every year, the party has been hosted by me at my parents' house. I actually have many friends who have only every been to my parents' house for my parties over the years and thus think that we always have a Christmas tree. Anyway, their house was made for parties - there's a great wet bar right in the middle of the house and tons of open space - and, since this was my last year to host a party here (one of my biggest hopes for David and my future home is space to host parties), I wanted to make the most of the space.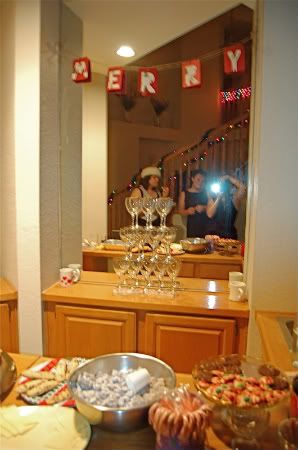 all photos are by me. sorry this one's so blurry.
The wet bar has been the central location for the party and has held the food every year (minus the dinner party year), but it wasn't until this year that I decided it needed some decoration of it's own.
I made the "Merry" banner out of leftover
Save the Dates
(what? I can't go wasting perfectly good Stardream paper, can I?), wrapping paper, and twine. It was good practice for possible wedding signage. One major thing I learned was to punch two holes in the cardstock and weave the twine through it instead of trying to tie it through one hole. Lesson learned. But, it's cute, no?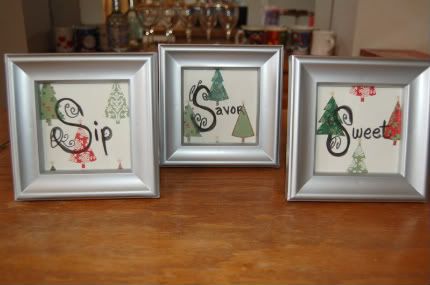 I whipped out the "Sip, Savor, Sweet" signs at the last minute. The frames are from a future wedding project, and I used the same wrapping paper as the "Merry" banner. I'm not too happy with my own handwriting, but I thought they were a nice touch and helped separate the different foods (and drinks) on the bar.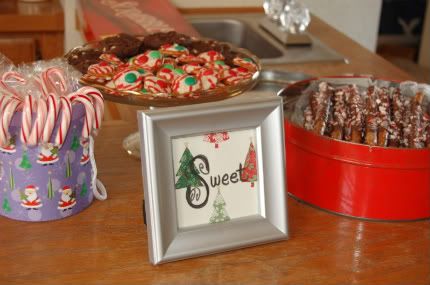 Here's the sweet sign in action. Those are just the desserts that I provided - there were many more to come from my fabulous guests.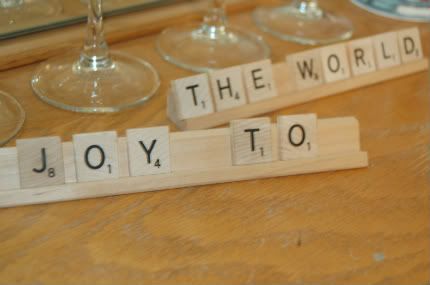 This clever use of Scrabble pieces came from
Apartment Therapy
. I thought it was too cute to pass up. You can play with different phrases for different seasons and events, too!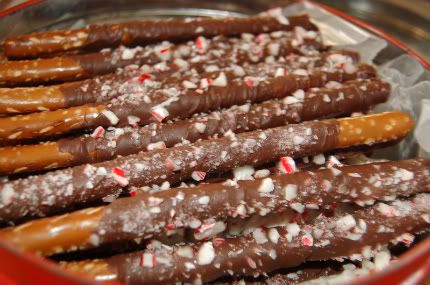 And finally, my lovely MOH and I made my traditional pretzel rods. I make them every year for Christmas and they're quite a hit for something so simple. I just melt chocolate chips on a double boiler, dip the pretzels, and sprinkle crushed candy canes on top. They're really delish. I actually like the ones made with white chocolate chips better, but melting white chocolate is tricky, ya'll.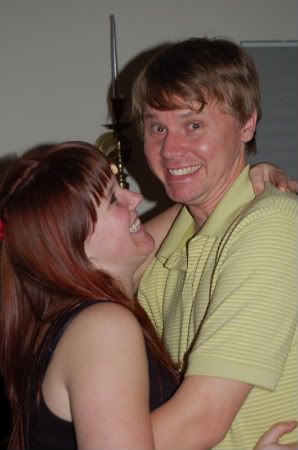 Here we are, the host and hostess.
I want to post about what I wore later, but I'll leave you for now with some of the wonderful, happy people who celebrated the evening with us: