Part one.
Part two.
Part three.
Part four.
Yesterday, I finally had the chance to take my last bridesmaid to
Alfred Angelo
to choose her dress. I thought it was pretty funny that the dress she picked was the very one that I almost chose for her - I just wanted to get this all decided on, and I knew she would like it. It was the very first dress she tried on. She tried others, but none held a candle to how great she looked in the first.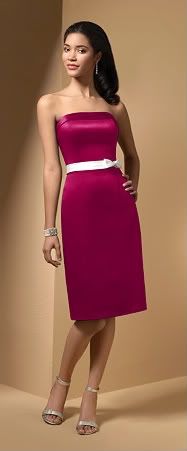 source.
The sash will be the same Champagne/gold color as my sister's dress will have, and I love how two dresses will have that accent color now. I'm going to encourage the other girls to accessorize in that color, but nothing is mandatory.
Since the final dress has been decided, I compiled an image to see how all the dresses look together.
personal compilation of photos from Alfred Angelo.
Don't they look great? Again, the color on the website is off - they won't look nearly that pink - but, I am otherwise loving the look. Sister BM L (the fourth dress) wants to have hers shortened so it sits just above the knee, and BM J's dress (the middle one) is really long on her, so it will be shortened to the knee as well. Thus, the dresses will all end up roughly the same length and since the color and fabric is exact, I know they'll look amazing.