Doilies, that is. Doilies tend not to be taken too seriously - I mean, try pronouncing their name in a room of serious folk and see what happens - but, after seeing this picture today, I'm sold on doilies.
source: Martha.
I am absolutely making these envelope / envelope liners for something wedding related. I haven't yet decided if they'll be incorporated in our invitations, thank you's, or something else, but just know that they will be used.
I had been looking for more ways to incorporate lace - I mean, we have a "vintage map and lace themed wedding", but so far the only lace appears on my dress and our not yet existent table runners. Doilies are the perfect way to include lace in even the smallest of details.
If you're not yet convinced that doilies are the best thing ever, please partake in some more eye candy: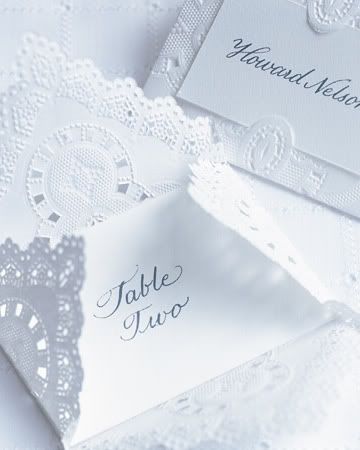 source: Martha.
If the envelope liners are too much, perhaps they would fit better around escort cards?
source: Once Wed.
source: Martha via Apartment Therapy.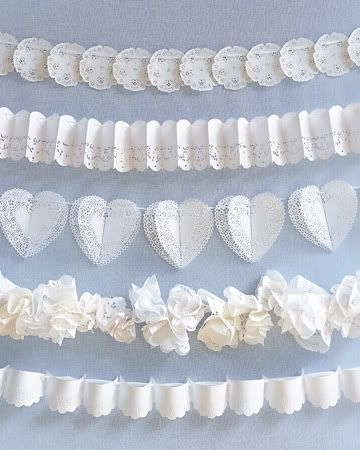 source: Martha
A doily garland or wreath could look wonderful strung above a head table, dessert buffet, or even along and altar.
source: Martha
These luminaries would light up any tablescape beautifully. They would be so easy to make by gluing paper doilies to bags, too.
source: Martha
A doily
shelf strip
would spruce up any cake or cupcake stand.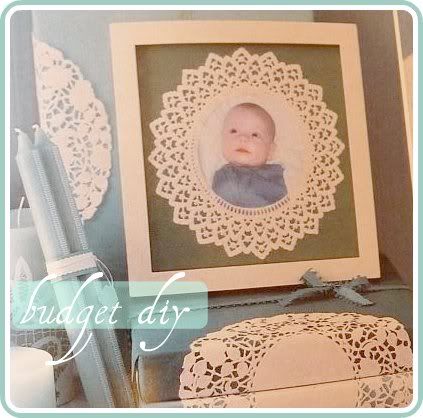 source.
What about using doilies as the backing matte for photos on display at the wedding?
source.
and finally, this dress was inspired by doilies. Maybe including it with all the other doily inspiration would be going a little too far, but it's beautiful, no?
Check
here
for some great doilies for purchase. How might you include doilies into your wedding?