This year for Christmas, David and I have decided to stuff and present stockings to one another instead of giving a typical gift.
source.
we decided to do this for a number of reasons.
[1] It's fun.
[2] Smaller is/can be cheaper, right? We thought it would be a good way to save while wedding planning. (This has not necessarily been true for me so far.)
[3] It forces us to be very thoughtful and creative in order to find small enough items with a lot of meaning behind them.
I already have a few items, and now I just need to fill in some gaps...
Love, you don't want to ruin the surprise by reading on.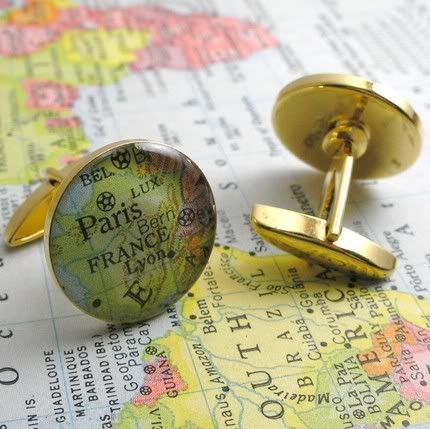 source.
I ordered him these absolutely perfect cufflinks from
dlkdesigns
on
etsy
. I was planning on giving these to him on our wedding day, but I wanted to be sure he didn't go out and get some cufflinks for his ensemble himself (they're something he's actually really been talking about wanting). This way, he'll already have them ready. I really want to make sure we get some detail pictures of his accessories now, too!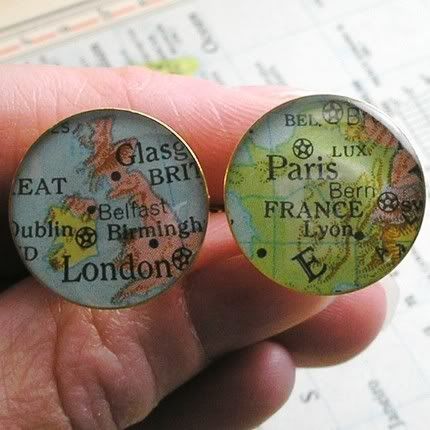 source.
The best thing about these cufflinks is that you customize the map locations yourself. The ones I ordered will have San Diego, CA and Bloomington, IN - the towns David and I grew up in respectively. I had to post the picture above, though - it's the default picture to show the item in the shop, but it also features the exact trip David and I went on last January. We flew into London, spent a few days in Northern Ireland near Belfast, and then spent a few days in Paris. I honestly considered using that trip as our destination for his cufflinks before I even realized this picture existed!
source.
Of course, one of the best things about etsy is the cute packaging the items typically come wrapped in. You're able to customize the location on the top of the box as well, so it will have Julian, CA - our wedding location. So, the gift features the individual places we grew up and the location we will be joined together in marriage.
The cufflinks were kinda pricy ($86), but the seller very kindly offered me free shipping and they are set in 18k gold. There are cheaper and just as adoreable options for these on etsy if you want to go the silver route, but I felt they needed to be gold to fully match our wedding.
source.
Next, I got him this pocket squared Moleskine Notebook. We sell all kinds of varieties of Moleskines at work, and I love them. I have been looking for an excuse to buy one for quite some time. I bought this (and a pocket planner for myself!) during our Holiday sale last week with extra employee appreciation, so I got 20% off his (and 30% off my own) plus an extra $5 off for every $25 I spent. I'm not sure how much the notebook itself ended up costing, but I'm estimating it was around $8.
source.
Why is this gift so perfect for David? Why would he need a notebook with graph paper inside? Well, to David, these are not graphing squares - they're pixels. Since he has spent so much of his life surrounded by video games that he very much considers art, he is inspired by pixels. He has made some pretty awesome pixel art and even writes poems and stories and such on paper like this. I thought it would be great for him to be able to carry his inspiring paper in his pocket.
Finally, I'm planning on putting in some Root Beer candy (his favorite) and got a packet of Spiced Apple Cider from work for next to nothing (we had a sale where all Christmas and gift items were 75% off, yall.) So far the price of his gift is sitting just under $100. I know I need to put a few more things in, but I've run out of ideas - maybe a few gift cards for a dinner or other date together? Any suggestions? What would be the perfect stocking stuffers for your significant other?