I've been spending a lot of time wrapping gifts at work because we offer free gift wrapping for any items purchased in the store. Since this week was finals week for my store's college, all of the students have been rushing to buy gifts before heading home for Christmas. Today, we ended up with something around a five hour wait time for wrapping. Having to get so many gifts wrapped so quickly and with pretty limited resources has reminded me that I take gift wrapping very seriously. To me, the wrapping is almost as (if no more) important than the gift. I just love pretty packages.
Since it's nearing the holidays and there are also a lot of excuses to give gifts while wedding planning, I thought I would share some of the more creative or unconventional ways I have packaged and wrapped presents in the past. Hopefully you find some useful inspiration for your own gifts.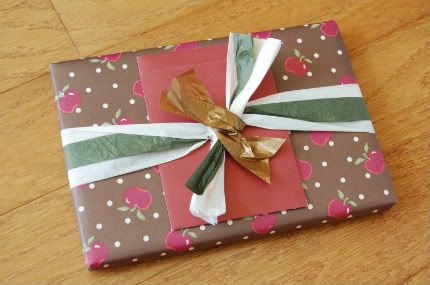 This was a birthday gift for David one year. While it looks pretty conventional, I whipped up this ensemble without any typical wrapping supplies around. The paper is decorative scrapbooking paper from my craft collection, and I made the "ribbon" out of strips of tissue paper. I also made the card and envelope out of corresponding scrapbook paper.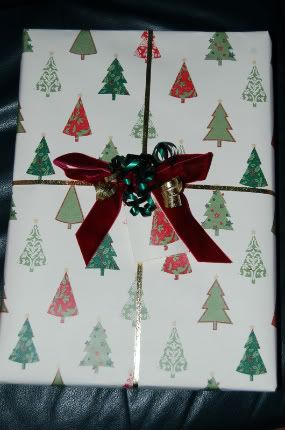 This, a Christmas gift for David, is probably the most normally wrapped of the bunch, but I just loved how the velveteen bow mixed with the ribbon ended up looking.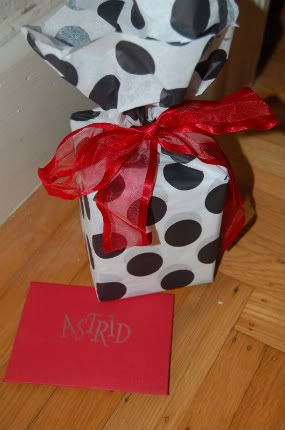 This gift for an old roommate was a mug, and I didn't have an adequate box for it, so I put it inside a tissue box. Since the tissue box had a large hole on top where the tissues come out, I couldn't wrap it the normal way. I salvaged this polka dot tissue paper from a boutique shopping bag/packaging from a purchase, and bunched it at the top to cover the hole. I added the red ribbon and tied it in with the card.
Believe it or not, this is gift wrapping. The old roommate from above was late to a bridal shower and didn't have a gift. All of the girls I lived with and I donated some pretty awesome items to put in the basket, and we "wrapped" it by covering everything with flowers we picked around campus. Not only did the bride-to-be get the gifts inside, but she got a basket full of flowers too!
and finally, I don't have a picture of it, but for David's younger brother's last birthday, I was wrapping a gift at the very last minute at David's apartment with literally no supplies to work with. I grabbed some white butcher paper, wrapped the item, and added "ribbons" by twisting together rubber bands and wrapping them around the gift until it looked like a star/flower. The rubber bands gave the gift a more "manly" (vs. the girly look of my other gifts) appearance, and David and his brother loved it.
So, I highly recommend that you experiment with creative ways to wrap your gifts this season - it can be cost-efficient, eco friendly, and fun! What unconventional ways have you wrapped presents before?