I plan to get things done this weekend, so I will hopefully have lots of DIY stuff to show you next week.
Until then, please feast your eyes on the perfect addition to any map themed wedding: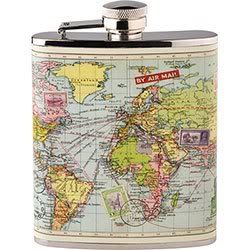 source.
Map flask? Yes, please, I think it would go perfectly with my dress, don't you?
No, but seriously, I have been seeing maps EVERYWHERE. Amazing how you start seeing more of something once it's been brought to your attention, huh?
Oh, and this is a perfect example of why I love long tables:
source.
Have a happy Friday!