While visiting my grandfather and his wife, I was introduced to the best store the world of rustic wedding planners, home decorators, or trinket collectors has ever seen. While explaining our wedding theme and our Bed Bath and Beyond registry, my grandpa's wife said, "Laura, have you even been to HomeGoods? I really think you'd like it." And what do you know, it was right down the street!
Enter
HomeGoods
, the store that virtually finished my search for items to decorate our wedding. HomeGoods is apparently the
TJ Maxx
of furniture and home decor, and I have only just heard of it because the only store in all of San Diego county is in Poway - about as far as you can get from me and still be in the same county. Anyway, normally discount stores (Marshall's, Ross, TJ Maxx, Nordstrom Rack, you name it) tend to freak me out / give me a migraine - I just can't handle everything thrown in together begging to be organized, but at HomeGoods, perfect items just kept jumping out at me.
Not only did they have vases and bowls in
our china pattern
, but they had (and begged for me to purchase) these wonderfully perfect items for our wedding:
This cake plate (which I think is the perfect amount of gaudy and vintage all at once, don't you?) brings our
Cake and Pie buffet
stand count to three. Cost? $14.99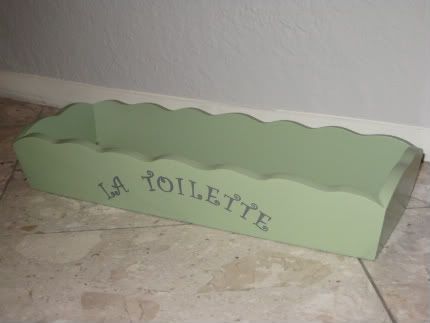 My mom declared the idea of a bathroom basket in the men's bathroom to be absolutely unnecessary, so I only bought one of these cuties, but I have big plans for using this filled with helpful items in the women's bathroom. Cost? $5.99
These stands are just what I was hoping for to hold up some signs. One will hold our seating chart, and the other will hold instructions for our
Postcard guestbook
. Cost? $5.99 each.
I've been searching Craigslist constantly for vintage suitcases. I think this mock-suitcase is lovely. I'll actually probably use it for the postcard guestbook and save our
cosmetic case
for pictures and such. Cost? $16.99.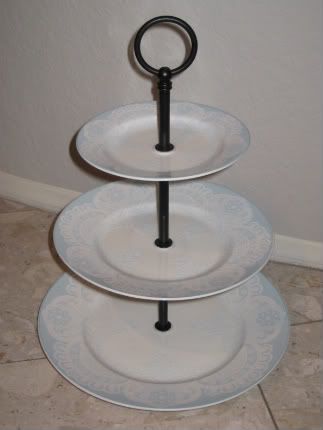 Okay, I probably won't use this for the wedding, but I just couldn't pass it up. Look at the great
doily
pattern. Cost? $12.99.
And finally, the belle of the ball, my favorite item of all, something I've been searching for:
A chalkboard menu stand! This will save me from another huge paper project making menus, and I get to incorporate the
chalkboard
trend. Cost? $39.99. Okay, this one was a little pricy, but I love it and plan on using it or selling it after the wedding.
In fact, I think most of these items are re-sellable and can help decorate many weddings to come.
Have you stumbled upon a store with everything you've been looking for all at once and quite unexpectedly? I highly recommend you check out your local HomeGoods store!
* all photos taken hastily by me.