image via the knot.
Hey guys, remember my
dress
? David, as you can see, this post includes elements of my dress. You probably don't want to read on. Everyone else...
It comes with this super sparkly and very lovely, but unfortunately silver-based brooch to go on the sash: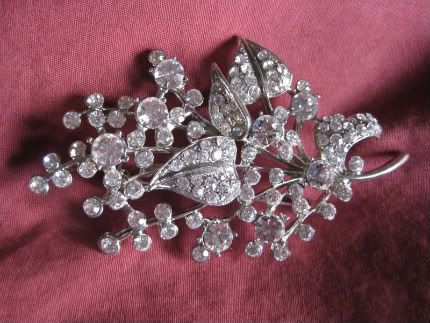 personal photo.
At first glance, the brooch seemed completely wrong for the dress. The dress is antique-ish and
gold
while the brooch seemed overly sparkly and way too silver. There are some other sparkly things on the neckline, but they are much less noticeable than the brooch.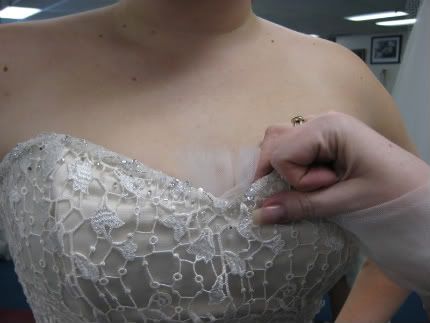 personal photo.
See? They're barely able to see from afar... in fact, I had completely forgotten about them (or never even noticed them) on the sample dress and was convinced they'd sent me a slightly different dress when mine arrived. (The tulle being held up by the neckline is another project I'm considering - I'll talk about that later.)
Anyway, I originally planned on taking off the brooch and making a tulle rosette (from the extra tulle stole that came with my dress) to go in its place.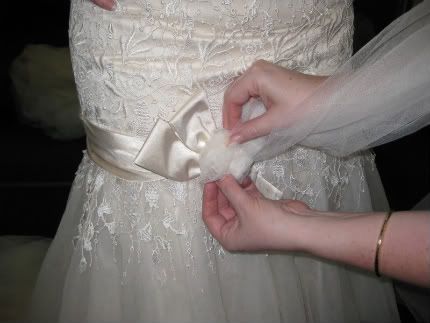 personal photo
And then I saw the photo at the top of the post.
It was such a lovely photo. The lace and gold sash were so similar to mine. And what's that wonderful little extra? Oh yeah, a brooch. A sparkly brooch at that. This one, however, was gold and antiquey and much more suited for the dress.
Suddenly I didn't want a tulle rosette. I wanted a brooch of my own. Yes, I already had a brooch, but I wanted
that
perfect brooch from the picture.
A quick hunt through etsy brought me these lovelies: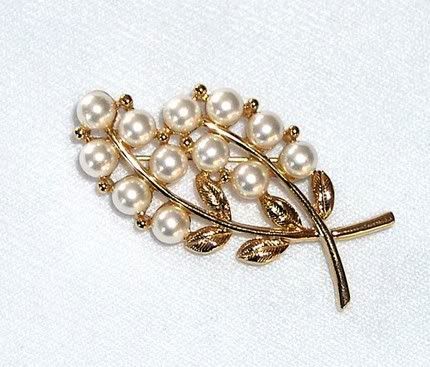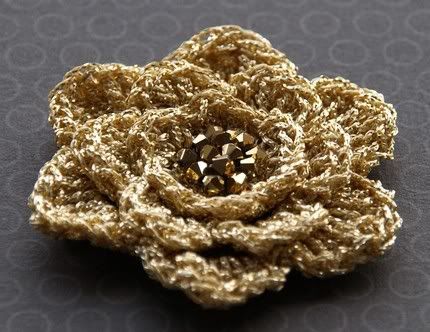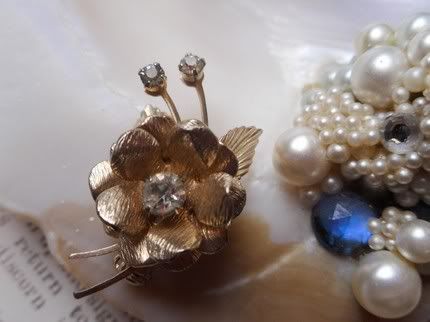 buy them here, here, here, and here.
So what do you think? It is worth the extra purchase to buy a more perfect brooch for my dress? Should I just suck it up and wear the silver one? (It is lovely, after all) Or should I make/wear the rosette? I could even try to add some beads and such to the tulle as a sore of DIY brooch... Augh, what should I do?