((See what I did there? The last shoe post was entitled "
Blue Shoes
"... yeah...))
Do any of you Weddingbee readers remember Mrs. Sea Breeze's
Purple
Shoe
Drama
?
Well, back then, purple wedding shoes were apparently extremely difficult to find. However, I guess someone out there in shoe-land reads Weddingbee or somehow got the memo because purple shoes are now
everywhere
*.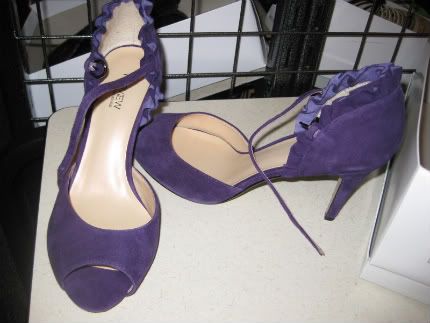 personal photo.
Aren't these lovely? I found them at Nordstrom Rack while searching for wedding shoes of my own. In fact, these shoes are exactly what I want for a wedding shoe - peep toe, d'orsay, ankle strap, ruffle or bow, and a relatively high heel - they're perfect. Except for one pretty big thing. I want them in burgundy.
While purple shoes are now plentiful, burgundy shoes are not. In fact, I am close to believing they are a myth - a dream of mine that can never really ever be real. Apparently the perfect burgundy peep toe pumps or d'orsays that fit me right but make me less of a shortie don't exist. Actually, nice burgundy shoes don't really seem to exist at all.
No, really. I've
combed
the internet, the department stores, multiple DSW's - they're nowhere to be seen.
Actually, I did find one pair of burgundy shoes. They're apparently designed by
Paris Hilton
, and at first site seemed pretty much exactly what I was looking for.
From Zappos.
The color matches my bridesmaids' dresses
perfectly
, they have such a cute little bow, and otherwise fit my criteria to a tee. They even have a nice (not so) hidden platform to lessen the heel height and it's potential pains. However, they do not fit me. At all. Praise Zappos and all that is good for their absolutely wonderful
return policy
, because if I could only go by site and didn't have a chance to try these on, they would have fooled me. The weight of the platform and heel make these some crazy heavy shoes, so they slip off my heels when I walk. I can't go a size smaller, however, because they're really already too small in the toes. No bueno.
So, I struck out with the only Burgundy shoes available. What next? I guess I could dye some shoes the right color, but the dyeable shoes I have seen so far have been pretty uncomfortable, very outdated, and so not my style. My dreams of colored shoes are fading fast, and I need shoes, like, yesterday so I can start getting my dress fitted. HELP!?
* No really, just you wait, after our wedding you'll probably be seeing Burgundy shoes everywhere, too.