Have ya'll seen
this
?
This couple, Marisa and John, literally planned their entire wedding in one week and surprised their guests who thought the event was their engagement party.
In fact, the event
was
their engagement party. Originally. After finding that Marisa was not too excited about the stressful months to come and the wedding they had planned thus far, but that she was very excited about the upcoming engagement party, Marisa's mom suggested that they just throw the wedding then. And they did.
The bride found her dream dress, convinced the shop to sell her the sample, and had it altered all within the week. They were also able to book a photographer, wedding planner, caterer, etc. They fit all the work (and stress) of seven months into seven days and then lived happily married. Don't we all wish we could get everything done that quickly?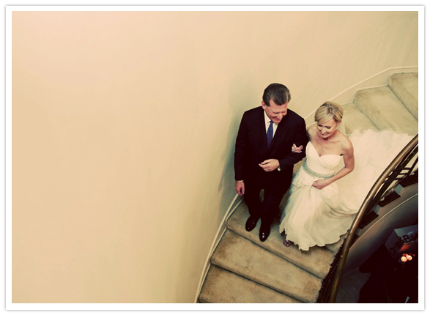 While the idea of pulling a surprise like this off seems crazy impossible to me, the fact that they really did get everything done that they really needed in such a small amount of time really hit me. I'm starting to stress about all the things I have left to do, but if this couple could do it in a week, surely I can do it in the next few months. No matter how many projects I finish before the wedding, we will have a wedding, and it will be great. None of the little time-consuming stuff really matters so much.
source for all images.
At the end of all this, we will be married, and that's what matters. Now, if only we, too, could get to that final goal within one week from today.