Armed with tons of
inspiration
, David and I ventured out to the mall.
First stop:
Banana Republic
.
After wandering around a bit, confused, I shoved a few jackets at David to try on. "Hmm, okay... 42S... what do the numbers/letters mean? Oh look that's too wide, but the sleeves are way too short. Try this one... 40R. Okay, it's a little slimmer, but the sleeves fit much better. Hmm..."
Guess what? The number - 42, 40, 38, etc - stands for the width or general size of the suit while the letter - S for short, R for regular, and L for long - stands for the length of the sleeves. We had just successfully figured out the sizing issue on our own by trial and error - proud of us?
Anyway, a Banana Republic employee soon noticed that we looked lost and offered to help us. He went to the back to find David's size many times in a few different suits, explained that Banana Republic offers three major fits ranging from a wider cut to their slim cut suit. Each suit David tried would have cost us right around our $500 budget for just the jacket and pants. He continued to help us graciously even after we told him that we would not be buying a suit from him, but that we were just looking for the right fit so we could shop online. He wins. However, it turns out that Banana Republic website is very different from what you'd find in the store - those three fits he told us about? Yeah, couldn't find them online. In fact, I have no idea which suits David tried on or if they are even offered online. Moving on.
Next:
J Crew
The J Crew store at our mall does not carry men's suits. This should have kept us away, but theirs were my favorite online picks, so I wanted to see what the sales people knew or how they could help. The woman there explained that their suits would fit in the same way as a suit from any other store and that if we ordered online we could return it to their store if there were any problems. J Crew's suits were about the same price as the Banana Republic ones, but they also had some awesome vest options. We would be able to get an extra 30% plus free shipping on any sale over $150 off since J Crew is having a sale (
go get it!
) We were really happy with these prospects, but still felt a little wary of ordering something so important online without having seen or tried it on in person.
Then:
Nordstrom
We walked into Nordstrom and basically walked right back out. I thought they would have a wide range of suits, people willing to help us maneuver them to find what we wanted, and something within our price range. Turns out, nobody wanted to help us (I figure they assumed we wouldn't get them their commission), and the only suits that we could afford were ugly. Nevermind.
Finally:
Macy's
After our experience at Nordstrom, David and I were ready to head out and peruse Banana Republic and J Crew's online options and call it a day. However, I had a nagging feeling that we should try Macy's first. David wrote it off and assumed our experience at Macy's would be the same as that at Nordstrom, but I convinced him that we should just see what they had while we were there before we ordered something online. It took a little coercion, but I'm so glad we went in. Macy's has a whole section titled the "slim shop" - exactly what we were looking for. And they had grey slim cut suits
on sale
. David tried on this Alfani Red suit, and we decided to jump on it.
source.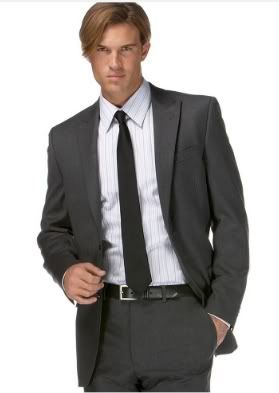 source.
The price? Originally,the jacket and pants would be right around the prices at the other stores, the vest would have put us over budget. But wait, in addition to the sale price, Macy's was having a weekend sale and any purchase in the men's suit department over $150 was an extra 25% off! The final price for jacket, pants, and vest?
$260
. That's
half
of our original budget!
Unfortunately I forgot to bring my camera shopping with us. So, being the good little blogger that I am, I made David try the suit on again once we got home so I could document it. The photos that follow are terrible - I rushed them so David could get back into his comfy clothes - but, I love the fit.
silly boy, trying to hide the tee shirt he was wearing under the jacket.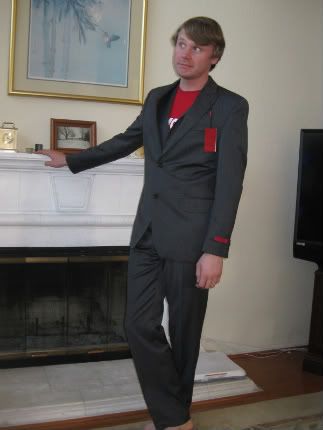 personal photos.
It's much darker than some of y favorite inspiration, but I'm so happy to have another big thing checked off our list, and I think David will look great!
What do you think of our shopping trip? Pretty successful for going in knowing nothing, huh? If you went the suit route for your finace/husband, where did you find his?