Friday was a whirlwind wedding day for David and me. First, we stopped by Men's Wearhouse to pick up groomsmen ties, then we headed out to Julian where we ate at and discussed booking with our rehearsal dinner venue, visited our venue to go over linens, table arrangements, lodging, and more, and then we went to the
Candied Apple Pastry Company
for a wedding cake consultation. We then finished the day by adding some bedding and towels to our registry once we got back to San Diego. Whew! Tired, much? Anyway, I was a bad blogger and forgot my camera on our journey, but never fear - I still have tons to share!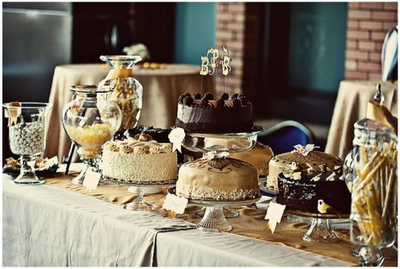 source.
So, as you can see, this post is about cakes. Now, you may be thinking - "Gee, Laura, why would you be visiting a baker when you had such a fabulous plan to have friends (and grocery stores) make such a great
cake buffet
?" Good question, dear reader. Why would I tempt myself with the fluffy, sugary goodness that is professionally baked wedding cake? Well, for one, I thought surely a cake buffet - even one made by a creator of wedding cakes - would be cheaper than an elaborate tiered fondant tower. Secondly, I hate grocery store cake, and I'm not sure I can find enough lovely and willing friends to bake us enough cakes. And finally, I had no idea how we would transport said cakes out to Julian nor did I know how we would store them Friday night and all day Saturday.
Anyway,
Candied Apple Pastry Company
is pretty much the only place to buy wedding cakes in Julian, so we figured we should go for a tasting even if the above problems were magically solved. So, we went. Crystal, the sales manager/proprietress/and cake decorator (the cakes themselves are made by pastry chef Charles Scott, but Crystal seems to do pretty much everything else), was super friendly, kind of eccentric, and very excited to be talking cakes with us. However, when I showed her my inspiration photos of cake buffets, her smile dropped a bit.
Basically, she thought the logistics of cutting multiple cakes would be too complicated and explained the pros of having a tiered cake. So, now, I'm back to the drawing board. If both options would feed roughly the same amount of people for the same cost, which would be best?