I LOVE how so many weddings have been using fabric flowers for so many lovely details. In fact, there are tons of tutorials available -
here
,
here
,
here
, and
here
. I decided I needed some fabric flowers of my own. So, without too much decision on what I would actually use them for, I grabbed the extra tulle that came with my dress (it's actually came to wear as a stole, but there's SO MUCH if it), referred to
Maize in Montana's frayed flower tutorial
, and started whipping out tons of these babies.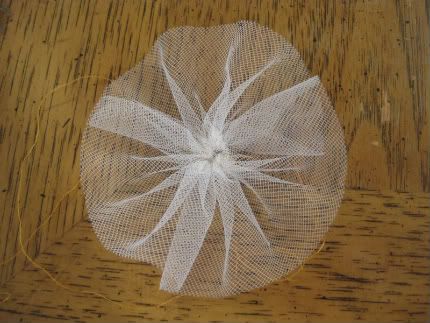 You should definitely follow the great
tutorial
if you want to make these, but you basically just cut a strip and sew along the bottom edge as if you were making a ruffle. Then, you pull it tight - voila! - beautiful fabric flower. NOTE: The tutorial teaches how to make frayed flowers... I followed it exactly, mine just aren't frayed because I used a fabric that doesn't fray. :)
So, now I have a bunch of neat little flower guys - what do I do with them? Well, first I made this:
I literally just took to finished flower, stuck a button through the center, and sewed it to a bobby pin on the other side. Wait, a bobby pin? Oh yes, look, it's my newest idea for my hair flower!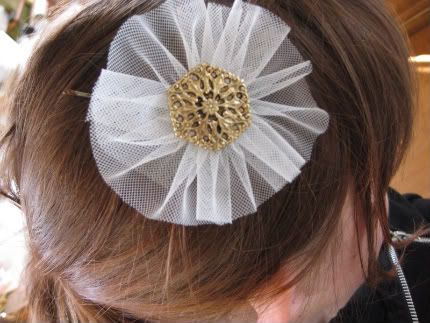 I'm thinking about making another hair flower like this to wear next to it. I am also considering changing the bobby pin to a more stable fascinator so it can hook better to my birdcage veil. (Oh! I haven't talked about my veils (yes, that's plural) yet - bad Laura... I'll get right on that!)
Next, I ditched all my previous ideas for the guys'
boutonnieres
, and made these: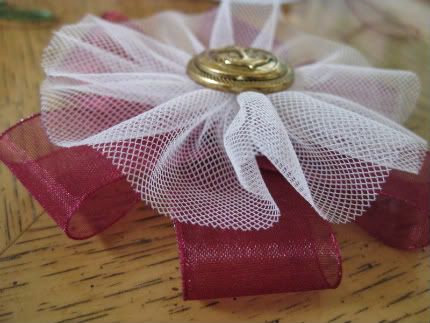 I guess they're more like a fancy lapel pin than a boutonniere, but I don't care - I think they're just adorable. I've made all five of the groomsmen's so far and I'm now brainstorming ways to make David's a little different. I'm also thinking about making one for the dads... should theirs be different too? How? I plan on posting a tutorial for these soon if any of ya'll are interested.
Anyway, I have tons more plans for these lovely little fabric flowers - including something for the moms, an addition to my
brooch
options, and possibly even my bouquet - if I decide I'm brave enough. So, what do you think? What would you use these little flowers for?