No really, there are invitation pieces and supplies
everywhere
around these parts. So far, I have cut, pasted, folded, cut, pasted, cut some more, flashed five gocco screens, inked and pressed 50+ pages for each screen, and cut even more - and we're not yet finished!
personal photos.
Look at that mess. The crazy thing about gocco-ing is how much space those suckers take to dry - that is just a small taste of all the surfaces I had
covered
in invites and rsvp cards.
In addition to all the crazy crafting of our own invitations, look what I got in the mail the other day: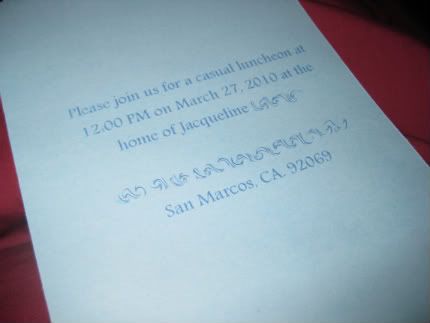 personal photos.
My shower invitation! I'm
so excited
about this! I'm so honored to have such great bridesmaids. I can't wait to see people I love and have an afternoon to relax and maybe get some lovin'! I wonder if anyone will shop my
Anthropologie wishlist
. Ahh, so fun!
Man, all this wedding stuff is really starting to get incredibly
real
. When did the reality of your wedding start to hit? Has it hit yet?