Last week was our third dating anniversary - and the last time we would celebrate an anniversary in February - the last time we would celebrate an anniversary as an unmarried couple. David and I switch years treating the other to dinner and more for our anniversary. This year was David's turn and he went all out.
The day started out with this lovely bouquet. This was the first time David has ever given me flowers. He doesn't like the common idea that they are expected at certain times or that they equal the only acceptable apology to a girl, so I assumed he was against giving them all together. Receiving them was a total surprise. I love them. The best part is that I get to keep the vase and fill it with lovely flowers for years to come.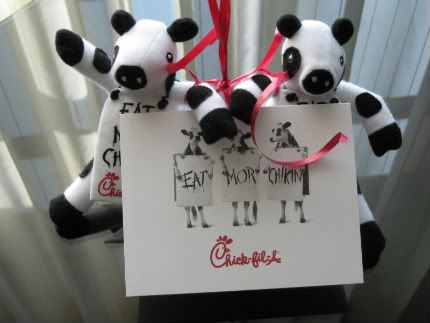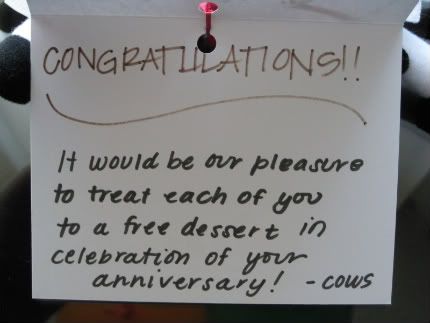 For breakfast, David took me to Chick-fil-a where we were given star treatment (which, you know, may have a little something to do with the fact that he works there and is basically the superstar of the store). When we were finished, all the workers came out with these cows tied to a bunch of balloons and a free dessert "on the cows". I got a milkshake - I've been on a no-sweets diet since the new year until the wedding, but I figured it would be rude to the cows to refuse - it was
good
.
We then had a leisurely day which included a picnic lunch and shopping for swim trunks for David for our honeymoon - can you believe he grew up in San Diego and he doesn't own a single pair of swim trunks?
And then for dinner (yes, he treated me to all three meals of the day!), we got all dressed up and had the best steak of our lives and easily gained two of my hard-lost pounds back - so worth it. Recognize my dress? Even if I don't wear it for our engagement pictures, you can't say it hasn't had its time to shine.
Anyway, it was a great anniversary and was so great to take a day out for ourselves without worrying about wedding stresses. It was especially exciting to realize that this, the last anniversary for us while dating, was only one of many many wonderful anniversaries to come.