Name game, name game, let's play the name game.
Did ya'll ever play that as a kid? You know, you say your name and then someone else's and then they say theirs and another's and on it goes... yeah, anyway, I used to love that game (and many other name game variations) when I was young.
From games like this to where you stand in line in school and so much more, the importance of one's name is stressed from a very early age. And, obviously, I have a pretty deep connection to my name. I mean, it's a big part of me, right? My first name is pretty common, but my last name is kinda complicated to spell and pronounce. I couldn't count how many times I have known a telemarketer on the first few words because of how they pronounced our name or all the times I had to spell my name over again because the person writing it got confused. I have little antidotes and jokes to tell at these moments, I have explanations that this person is not the only one, I have a part of my personality that goes along with my last name and all that it entails.
David's last name, on the other hand, is really simple. Like, it's a pretty big part of pop culture kind of simple. Nobody questions how it's spelled or pronounced - in fact, the antidotes for his name don't come from how rare or confusing it is but rather from how common or familiar it is.
This all being said, I fully intend to change my name to David's when we get married. I never even thought I would question this step - it's just the way things were supposed to be - but, I've found myself more torn than I would have thought and it's kinda hard to give up something that has been a big part of my identity for my whole life. I have some pretty solid reasons for changing my name, though, and I am pretty excited about this decision.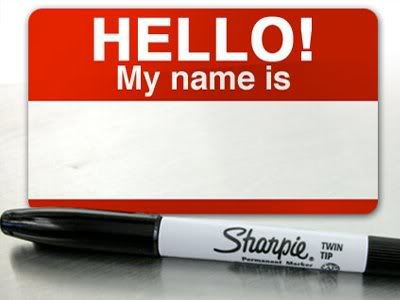 source.
I am changing my name because...
[1]
I want to have the same last name as my kids.
In my life, a family has always been a unit with the same last name. I know this is by no means a requirement - and, I've known many strong family units that were neither biological families nor did they share a last name - but it is important to me to share a name with my kids. I want to show up at their school and "I'm Mrs. Suchandsuch" and the teachers will immediately know which kid I belong to. I don't think a name is necessary to unite a family, but I know it's something I want our family to have. I want to be known as the "Suchandsuch family" with no confusion and no exclusions.
[2]
I want to show that I am fully committed to this marriage.
I've already hinted that I believe firmly that divorce should not be seen as such an easy way out as many people today see it. I've heard comments from many people that going through the hassle of changing your name just adds that much more hassle to the divorce process, and that kind of comment makes me so sad. David and I do not consider divorce an option for us - we're in it for the long haul - and we're not going to do anything to make leaving easier for any kind of "just in case" or leave any knots untied. We're committing to one another fully. We're becoming a family. We two are going to become one. I want us to be a unit, not just two individual people who have decided to spend our lives together.
[3]
I want my husband to be the head of the household.
As much as I love to share and fight for my own opinions and like to think I'm a strong leader-type woman, I believe in the Biblical view that a man is the head over his wife. I know that David is a man who honors God, and I want to respect and follow him wherever God leads us. I also think that a family can be stronger where the children see their father as a strong leader and see him treating their mother with honor and respect. I think that giving up my own name and taking on David's is just another step to letting him take the lead in our relationship.
[4]
I get to keep my initials and my signature.
Okay, this isn't as much a firm reason as it is a kind of perk, but it's true. David and I have the same last initial, so I will stay "Laura X" even with my last name changed. Since my signature is just basically the first letters of my first and last names with a cursive squiggle following them, that won't really change either. It's nice to not have to learn an all new signature to go with my new name, I suppose.
I know the process will be complicated, and I know there will be times when I miss
my
name, but these reasons seem pretty important to me and I'm super excited to commit this fully to the man I love and to dive into our lives as a family.
Are you / did you change your name? What reasons did you have for your decision?