Since our Engagement photos were
postponed
, I've had more time to think about where we should go to take them. Sarah,
our photographer
, came up with some pretty awesome ideas and locations that I'm excited about, but I also have a few ideas up my own sleeve.
Remember
these awesome plane photos
and how I said we could use my dads plane to take plane photos of our own? Well, that idea was tabled for some time because the wings on my dads plane were removed. But now they're back in all their glory, and our very own plane photos could soon become a reality.
My dad took me down to the airfield where his plane is kept yesterday, and I discovered that there are some pretty awesome places to shoot photos around there.
I can already imagine some pretty rad photos using these hangars as backdrops. Can't you just picture some of the great shots we could get up against those walls and windows? What about some perspective shots with us in the foreground of those three hangars in a row?
And, look at that view! Mountains + field + runway = endless photo possibilities.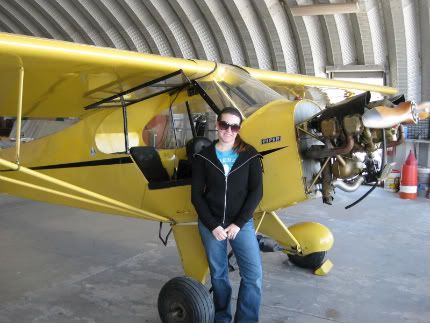 If a photo taken by my dad right after I had gone to the gym and threw on junky clothes can look this good, just imagine what kind of shots we can get once we're all gussied up with a real photographer.
My dad has agreed to come with us on our shoot to help move the plane out to a better location, and Sarah has shot here before and is excited about the possibilities. There's also a ton of junk yards and car lots around that I'm pretty excited to explore. Man, this area would be great for a trash the dress session.
Did you scout out locations for your photo sessions? Doesn't it make you super excited for the photos?